Featured in this Folio:
Editor's Note:
As I write this on the morning of Trans Day of Visibility, I realize that sometimes all I want is invisibility. There is a lot I could say at this crucial moment for trans rights, especially for those of us who are multiply marginalized. But instead, I want to express my gratitude for these 15 wonderful contributors, and for you, reader, for experiencing our joy with us.
I came to the idea of this folio after attending the 2022 Sundress Trans/Nonbinary Writing Retreat and witnessing the absolute power of trans and writing community, even through our individual computer screens. It is vital to carve out these spaces for ourselves. It is vital to find a readership and writing community where our transness simply is. No explanations, no need for justification. Places where we can not only exist but even thrive.
Trans writers do not owe anyone our joy, nor our trauma. My hope, though, is that trans readers will walk away from this folio thinking, as the title suggests, "it's a good day to be trans." I'm beyond excited to introduce this selection of prose, poetry, and visual art. In this folio, T4T love and change are embraced. New names and genders are revealed and celebrated and danced along with. So much love and light pour out from these digital pages.
I want to sign off with a quote from H. Melt's poetry collection There Are Trans People Here. The poem "Trans Lit" reminds us:
Trans Lit is bullshit unless it is written
by trans people, unless it is written
for trans people.
SG Huerta
3/31/23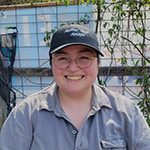 SG Huerta is a Chicane writer from Dallas. They are the author of the poetry chapbooks The Things We Bring with Us (Headmistress Press 2021) and Last Stop (Defunkt Magazine 2023). Their work has appeared in Split Lip Magazine, Infrarrealista Review, and elsewhere. They live in Texas with their partner and two cats. Find them at sghuertawriting.com or on Twitter @sg_poetry.