Lighting
Tear open the curtains;
Open slammed doors;
Let the light in.
Reminded
How we survived
The solstice.
Today, Joy Again
Inhabits This House.
Tonight, we dance.
Together.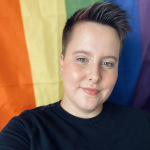 Dr. Kayden Vargas (they/he) is a non binary parent, psychologist, and poet by moonlight. Their first love was, and always will be, the Columbia River. He currently lives, writes, and teaches on the traditional lands of the Yakama people.
&nbsp