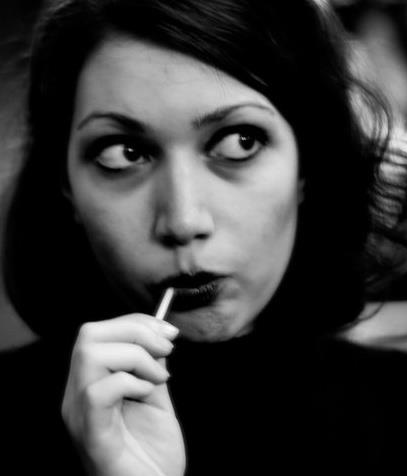 SARAH CLARK | EIC, Poetry Editor | They/Them/Theirs

Sarah Clark is a disabled two-spirit Nanticoke editor, writer, and cultural consultant. They are Editor-in-Chief and Poetry Editor at ANMLY, Editor of beestung, Co-Editor of The Queer Movement Anthology (Seagull Books, 2022) and the Bettering American Poetry series, and a member of the Board of Directors at Sundress Press. They have edited feature folios for publications, including GLITTERBRAIN and Indigenous & Decolonial Futures & Futurisms at ANMLY, as well as folios on Sound Art, "Desire & Interaction," and a collection of global indigenous art and literature, First Peoples, Plural at Drunken Boat. At Apogee Journal, they were co-editor of #NoDAPL #Still Here and their series WE OUTLAST EMPIRE and Place[meant]. Sarah is a former Executive Board member at VIDA and former Editor-in-Chief of VIDA Review, where they curated a series of essays by writers outside of the binary, Body of a Poem and the interview series, Voices of Bettering American Poetry, and a former reader at The Atlas Review. Sarah freelances, and has worked with a number of literary and arts publications and organizations, including the Best of the Net anthology, contemptorary, #PoetsResist at Glass Poetry, Apogee Journal, CapsuleCrit, Blackbird, the Paris Review, and elsewhere. In their spare time, Sarah has strong opinions and is very queer. They cannot pass a Turing test. @petitobjetb.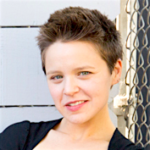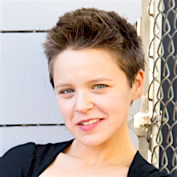 ANNA ROSENWONG | Translation Editor | She/Her/Hers
Anna Rosenwong is a translator, editor, and content strategist. Her work has been honored with the Best Translated Book Award and the American Academy of Poets Ambroggio Prize, as well as fellowships from the National Endowment for the Arts, the Banff International Literary Translation Centre, the American Literary Translators Association, the University of Iowa, and the University of California, Irvine. Read some at annarosenwong.com.
NICK POTTER | Comics Editor | He/Him/His
Nick Francis Potter is a writer, cartoonist, and educator. He is the author of New Animals (Subito, 2016). His short fiction, essays, and comics can be found in Black Warrior Review, Ninth Letter, The Offing, Big Other, Pank Magazine, Bat City Review, and Quarterly West, among others. He teaches writing and theory courses in the Digital Storytelling Program at the University of Missouri.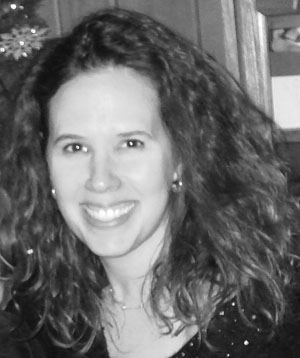 KATHRYN HENION | Fiction Co-Editor | She/Her/Hers

Kathryn Henion's fiction has appeared in Saranac Review, Natural Bridge, Green Mountains Review, The Briar Cliff Review, and Confrontation, among others. She is the recipient of Sequestrum Journal's 2018 New Writer Award for fiction. She earned a Ph.D. in English from Binghamton University, where she also served as editor of Harpur Palate. She lives and works in Ithaca, NY, where she serves as artistic director for the Spring Writes Literary Festival. kathrynhenion.com/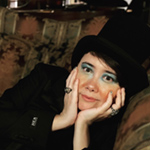 ADDIE TSAI | Fiction Co-Editor, Features & Reviews Co-Editor | Any/All

Addie Tsai is a queer nonbinary artist and writer of color. They collaborated with Dominic Walsh Dance Theater on Victor Frankenstein and Camille Claudel, among others. Addie holds an MFA in Creative Writing from Warren Wilson College and a PhD in Dance from Texas Woman's University. She is the author of the queer Asian young adult novel Dear Twin. Unwieldy Creatures, their adult queer biracial retelling of Frankenstein, is forthcoming from Jaded Ibis Press in 2022. They are the Fiction Co-Editor at ANMLY, Staff Writer at Spectrum South, and Founding Editor & Editor in Chief at just femme & dandy.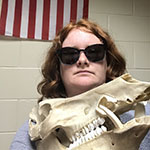 ASHELY ADAMS | Nonfiction Co-Editor | She/Her/Hers
Ashely Adams is a swamp-adjacent writer whose work has appeared in Paper Darts, Fourth River, Permafrost, Apex Magazine, and other places. She can be found on twitter @goosegloriosa. Send bonez pls.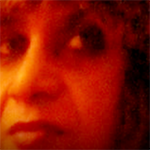 MIZZY HUSSAIN | Nonfiction Co-Editor | She/Her/Hers
Lancastrian born and bred, Mizzy Hussain currently resides in Scotland. She holds an Msc. in Creative Writing (Distinction) from the University of Edinburgh, taught by Scottish fiction writers/ poets Dilys Rose and Robert Alan Jamieson. In a past life, she completed an early course on memoir/creative non-fiction (Recording the Self: an autobiographical approach) at Birkbeck College, London, taught by renowned photographer/artist Rosy Martin and the late feminist writer Berta Freistadt. This resulted in her first published short story, "Return to England," in How Maxine Learned to Love Her Legs, an anthology of coming of age stories (Aurora Metro Press, 1995). Her first publishing achievement (a feature interview with a Doric poet) was a result of an unsolicited query/pitch to the magazine Aberdeen Leopard. Since then she has had work published in both online literary journals and in print. She was awarded Poem of the Month by The Guardian (April 2021) and is now working on her next poem, when not distracted by cat pics and dreams of living alone in a castle with hundreds of cats.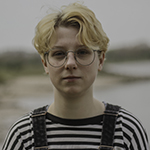 DINO de HAAS | Fiction Reader | They/Them/Theirs

Dino de Haas (they/them) is a queer artist based in the Netherlands who makes comics and games, or comics that are games. They also write poetry and short stories that are often comics or games, too, or might as well have been. In 2021, they earned a BA in Creative Writing from Artez University of Arts. They're the author of the sci-fi comic View. You can find them on twitter @dinodehaas.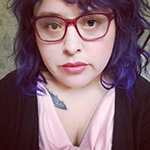 MILLISSA KINGBIRD | Assistant Fiction Editor | She/Her/Hers
Millissa Kingbird (Anishinaabe – Mille Lacs Band of Ojibwe) holds a Master of Fine Arts in Poetry from Institute of American Indian Arts in Santa Fe, NM. She writes poetry and the occasional lyric essay focusing on womanhood, bodies, nature, and trauma. She has been published in Hinchas de Poesia, Yellow Medicine Review, Red Ink, Connotations Press, The Rumpus, and Heavy Feather Review. When not writing, she contemplates small things.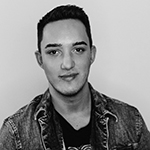 CARSON FAUST | Fiction Reader | He/Him/His
Carson Faust is a queer writer and an enrolled member of the Edisto Natchez-Kusso Tribe of South Carolina. His fiction has received support from the Minnesota State Arts Board, and he is the recipient of fellowships from the Jerome Foundation and the McKnight Foundation. His stories have appeared in TriQuarterly, Waxwing, Foglifter Journal, here in ANMLY, and elsewhere. He serves as a board member for 826 MSP—a nonprofit organization that provides literacy- and creative writing-based programming for underserved K-12 students in the Minneapolis-St. Paul area. Find him on Twitter and Instagram.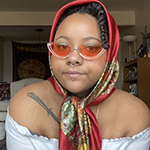 TALIA WRIGHT | Fiction Reader | She/Her/Hers and They/Them/Theirs
Talia Wright (they/she) was born and raised on the Southside of Chicago. They are a bookseller, poetry/prose writer, and 2019 Pink Door Fellow. They have been published in In These Times, Hooligan Magazine, Stellium Lit, and more. Their work is informed by blackness, the great migration, and spending summer afternoons dancing under their grandparents' Mulberry tree. Follow them on Instagram @cherub.jpeg.
jonah wu | Fiction Reader | They/Them/Theirs
jonah wu is a queer, non-binary Chinese American writer and filmmaker currently residing in Los Angeles, CA. Their writing has been published or is forthcoming in Longleaf Review, Jellyfish Review, Sinister Wisdom, Bright Wall/Dark Room, beestung, and others. You can follow them on Twitter or Instagram @rabblerouses.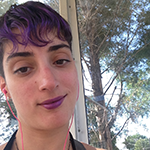 LIV MAMMONE | Nonfiction Reader | She/Her/Hers
Liv Mammone is an editor and poet from Long Island, New York. Her poetry has appeared in wordgathering, monstering, Wicked Banshee, The Medical Journal of Australia, and others. In 2017, she competed team for Union Square Slam as the first disabled woman to be on a New York national poetry slam team and appeared in the play The Fall of All Atomic Angels as part of a festival that was named Best of Off Off Broadway by Time Out Magazine. She was also a finalist in the Capturing Fire National Poetry Slam in Washington DC. Her editorial job on Uma Dwivedi's poetry collection They Called her Goddess; we Named her Girl, was nominated for a Write Bloody book award. She is also the editor of the speculative fiction series Margins and Murmurations by author and activist, Otter Lieffe. Currently, she works as an editor at Game Over Books.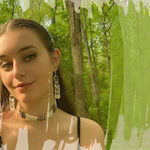 GILLIAN JOSEPH | Assistant Folio Editor | they/them/theirs

Gillian Joseph is a queer, 2-Spirit Ihaŋktoŋwaŋ Dakota storyteller and aspiring decolonial narrative therapist who grew up as a guest on Waxhaw & Catawba lands. They currently live in Berlin, and enjoy spending time near mní (water) + trying to figure out what their dreams mean.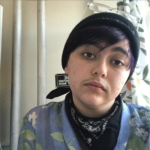 LIP MANEGIO | Assistant Folio Editor | they/he

Lip Manegio is a Pushcart & Best of the Net nominated poet, organizer, designer, & dyke. Their work has appeared in Glass: A Journal of Poetry, Puerto del Sol, the minnesota review, Tin House, and elsewhere. They hold a BFA in creative writing from Emerson College, serve as editor in chief/jack-of-all-trades at Ginger Bug Press, & are the author of We've All Seen Helena (Game Over Books, 2019). Find them at lipmanegio.com.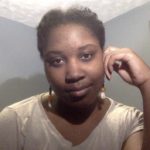 EBONY E. CHINN | Editor-at-Large | She/Her/Hers
Ebony E. Chinn is from New Jersey. She has received support from the Callaloo Creative Writing Workshop, AWP's Writer to Writer Mentorship Program, and the Bread Loaf Writers' Conference. She holds an MFA from the University of Alabama. Her work has appeared in DIAGRAM, Lolwe, Frontier Poetry, Narrative, and Callaloo.
CHING IN-CHEN | Associate Poetry Editor | They/Them/Theirs
Ching-In Chen is the author of The Heart's Traffic (Arktoi Books) and recombinant (Kelsey Street Press) and co-editor of The Revolution Starts at Home: Confronting Intimate Violence Within Activist Communities. A Kundiman, Lambda, Watering Hole and Callaloo Fellow, they are part of the Macondo and Voices of Our Nations Arts Foundation writing communities. They have also been awarded fellowships from Can Serrat, Millay Colony for the Arts, the Norman Mailer Center and Imagining America. Their work has appeared in The Best American Experimental Writing, The &NOW Awards 3: The Best Innovative Writing, and Troubling the Line: Trans and Genderqueer Poetry and Poetics. They are a senior editor of The Conversant and serve on the Executive Board of Thinking Its Presence: Race, Advocacy, Solidarity in the Arts.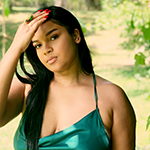 TIANNA BRATCHER | Assistant Poetry Editor | They/She
Tianna Bratcher (they/she) is Black, queer, genderfluid poet, performer and teaching artist. They are a fellow of The Watering Hole, Griot's Well, Tin House and a 2021 finalist for the Miss Sarah Fellowship. They placed 5th at the National Poetry Slam 2017 & and placed 7th in the world at the Women Of The World Poetry Slam (WOWPS) 2020. Their work appears or is forthcoming in The Shade Journal, Voicemail Poems, Writerz & Scribez Zine, December Magazine and My Soul Has Grown Deep Anthology.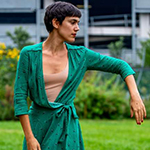 ELEONORA NATILII| Poetry Reader | She/Her/Hers
Eleonora Natilii is an Italian writer from the countryside. Always proud to declare that she still remembers how to milk a goat, she also has a fetish for chinaware and silver spoons. She's beginning an MFA in creative writing at age thirty-four and couldn't be more excited.
TRICIA LOPEZ | Poetry Reader | She/Her/Hers

Tricia Lopez is a Nicaraguan and Salvadoran writer from Los Angeles. She has had poems, stories, and author interviews published in Dryland, The Acentos Review, Rabid Oak, The Hellebore, and other places. She graduated from Woodbury University with a BA in Professional Writing and is now getting her MFA in Creative Writing at Mount Saint Mary's University. You can find her on Instagram @trvcvv.l and Twitter @trvcvvl.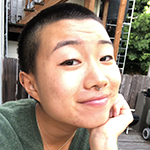 LUCY ZHOU | Poetry Reader | She/Her/Hers
Lucy Zhou is a technical writer based in the Bay Area. Her writing has appeared in HAD, Barren Magazine, X-R-A-Y Literary Magazine, and elsewhere. In 2020, she received an honorable mention for the Felicia Farr Lemmon Poetry Prize from the Academy of American Poets. She loves long-haired cats, labyrinths, and endlessly revising her pieces. You can find her on Twitter @lrenazhou.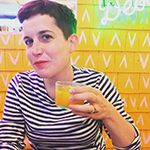 ALLISON GRIMALDI-DONAHUE | Translation Associate Editor | She/Her/Hers
Allison Grimaldi Donahue is the author of On Endings (Delere Press) and Body to Mineral (Publication Studio Vancouver). Her translation of Vito Bonito's Soffiati Via is forthcoming from Fomite Press. Her work has appeared in Words Without Borders, Tripwire, Brooklyn Rail, The Literary Review, FlashArt and other places. She is currently translating Carla Lonzi's Autoritratto, a work of Italian feminist auto-theoretical art history. She teaches creative writing at John Cabot University, Rome.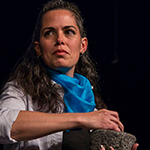 MARÍA JOSÉ GIMÉNEZ | Translation Assistant Editor | She/Her/Hers
María José Giménez is a poet, translator, and editor whose work has received support from the NEA, the Studios at MASS MoCA, the Breadloaf Translators' Conference, Canada Council for the Arts, and the Banff International Literary Translation Centre. Author of CHELATED (Belladonna*) and 2019–2021 Poet Laureate of Easthampton, Massachusetts, María José was awarded the American Academy of Poets Ambroggio Prize for Mara Pastor's bilingual collection DEUDA NATAL, with Anna Rosenwong.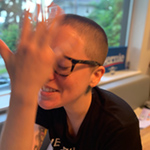 MAXINE SAVAGE | Translation Assistant Editor | They/Them/Their
Maxine Savage is a translator, writer, and educator whose work has been supported by the Fulbright Commission and the American-Scandinavian Foundation. Their scholarly and creative work has appeared in PARSE Journal, Ós – The Journal, Seedings, and elsewhere. They are a PhD Candidate in Scandinavian Studies at University of Washington.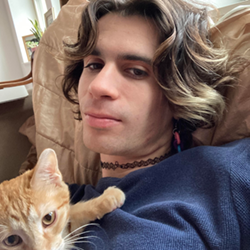 NOA/H FIELDS | Social Media Editor; Blog Assistant Editor | They/She
Noa/h Fields is a Chicago-based poet. Their writing appears in Tripwire, Zoeglossia, Sixty Inches, Ghost City Press, and elsewhere. She loves to go dancing and she believes in entropy, wild captioning, oblique strategies, and collective dream communication.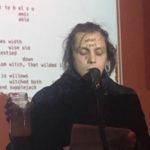 ZEBULON WIMSATT | Folio Editor | They/Them/Theirs
Zebulon Wimsatt lives in Rhode Island. They study and work in public library systems; previously, they studied digital language arts at Brown University. Their poems about and illustrations of hourses have been published in the online journal E•ratio, and in the print journals Pallor Pink and Transversals.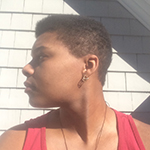 k. lynn johnson | Production Editor | They/Them/Their

k.lynn johnson is from the bay area. they live in brooklyn and work as a software engineer. their poems can be found in Columbia Journal, Flock, The Fourth River and others.

ERICA MENA | Editor & Executive Director, Anomalous Press | They/Them/Theirs
Erica Mena is a Puerto Rican poet, translator, and book artist. Their book Featherbone (Ricochet Editions, 2015) won a 2016 Hoffer First Horizons Award. Their translation of the classic Argentine sci-fi graphic novel The Eternaut (Fantagraphics, 2015) won a 2016 Eisner Award. They holds an MFA in Poetry from Brown University, an MFA in Literary Translation from the University of Iowa, and an M.Phil in Culture and Criticism from the University of Cambridge. They are a visiting lecturer in poetry and book arts at Brown University. Follow them on Instagram, Tumblr, or at acyborgkitty.com.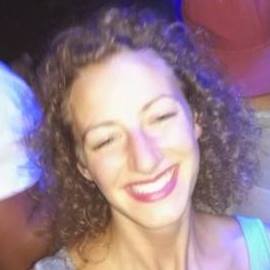 GENEVIEVE PFEIFFER | Assistant Director | They/Them/Theirs
Genevieve Pfeiffer is curating a folio on reproductive justice and its intersections (they urge you to submit). They are a writer and poet, and facilitate workshops with survivors of sexual assault and harassment. Their work is forthcoming or has been published in Erase the Patriarchy, Juked, So to Speak, Stone Canoe, and more. They oscillate between NYC and the mountains, and you can find them where there are trees. Genevieve blogs about outdoor wanderings and herbal birth control's intersections with witches, colonization, and personal and bioregional health at: medium.com/@GenevieveJeanne.