AFTER YOU TOLD ME ANYTHING IS POSSIBLE
As a child I collected cicada exoskeletons—in my closet, a box of ruptured enclosures.
I wondered how they knew when to wake up; what to leave behind; where the edge is?
Struggling to parse where "I" end and "you" begin, I reach for where the pressure holds
all of me without crossing your limits—stretched taut but not cracking—testing my edges.
When I cut my hair short and saw the boy hiding in my own jawline for the first time, I snapped
photo after photo, finding just the right light to show off my new-found edges.
On a hike, I stumble across a speckled kingsnake, admiring how rigid scales together link
to shield a spiraling body, and lean toward this lesson on the fluidity of edges.
Rewatching New Girl to confront my inner Nick Miller, I realize that I, too, relax
into myself in a flannel or henley with a wink of collarbone exposed where the neck slouches.
As muscles harden and form new angles, I'm surprised I now admire the soft curve
of my unbound breasts after years hiding—hunched and out-of-place in dresses.
I always felt trapped by the name my mom claimed meant crone: White. Woman.
Witch. Magic I may be, but bent for a better fit—call me Gwyn—king of the fairies.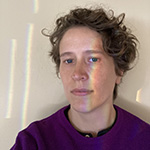 Gwyn Hill is the recipient of an Academy of American Poets Prize and earned their MFA from the University of Arkansas. As the former grant writer and accessibility coordinator for the Open Mouth Literary Center, they spearheaded efforts toward creating accessible literary programming. Their work was named a finalist for Wick Poetry Center's 2020 Poems for Peace and Conflict Transformation Contest, received support from the Bread Loaf Environmental Writers' Conference, and appears in Prairie Schooner, Painted Bride Quarterly, Split Rock Review, and more; under another name. They are excited to start building new credentials with their real name.
&nbsp