I Hold a Gender Reveal Party for My Shadow Self
At first, I couldn't decide on the colors for the cake. I settled finally on the dark charcoal of a pencil's smudge and a bright verdigris: the color of inspiration striking, the result of age and exposure. We are in an echoing cathedral, or maybe an old library; the room is full of something holy, something whole. To festoon the room, I hung silver tinsel strung with tiny raven lights. Candles wrapped in green and black tourmaline sit at each table, flickering gently. There are no balloons, but the room is fragrant with bergamot and leather. I was considering an eclectic mix of music, but decided on the fullness of silence. This absence pulls everything into hushed anticipation. The party is about to start. I am the only guest. There will be no games, but that does not mean there will not be joy. My shadow self is hovering somewhere outside the room, waiting for a cue to enter. It will not be long now.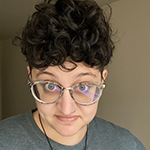 Gretchen Rockwell is a queer poet who can frequently be found writing about gender, science, space, and unusual connections. Xe is the author of the chapbooks body in motion (perhappened press) and Lexicon of Future Selves (VA Press) and two microchapbooks; xer work has appeared in AGNI, Cotton Xenomorph, Whale Road Review, Palette Poetry, and elsewhere. Find xer at gretchenrockwell.com or on Twitter at @daft_rockwell.
&nbsp