FEATURED IN THIS FOLIO
This has been a year that has challenged the idea of whose space—from women and trans people's bodies treated as public space, to monuments to oppression dominating public spaces for a select few, to literal belonging on this ground, and settlers' domain over occupied lands.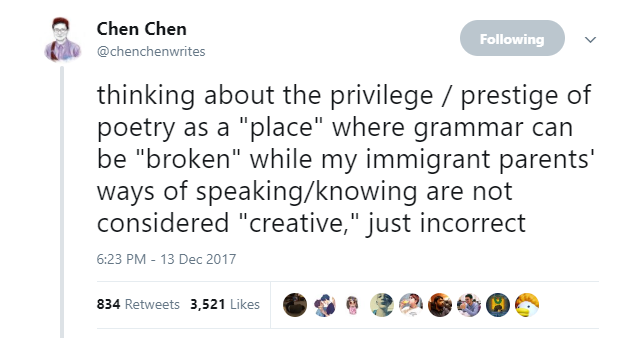 One of the most insidious myths about artificial scarcity is the artificial scarcity of space—in literature, in history, online, crossing landmasses, in the spaces that we share in our intimate relationships.
As I struggled to recall Eunsong Kim's introduction from Anomaly #25, I misremembered a line from Pat Parker as "Don't let the fascists speak." Fair enough.
These are poems that don't let the fascists speak. They take up space on the page, they use space very intentionally with form, they communicate mindscapes and liminal space.
"I become (because why not?) / a long pitch black tunnel rivered underwater between / African & American" —Trace DePass
​These poems silence fascists while reclaiming their own autonomy, authority and histories. Reclaiming space that historically has been occupied by the status quo, the canon.
This folio is a love letter to 2017, or a break up letter, or a receipt—a bill of what's owed.
"AND YOU WILL COOK ME WOODEAR & CABBAGE AND PERFECT YOUR SCALLION PANCAKE TECHNIQUE. AND YOU WILL BRING ME COFFEE IN THE MORNING. AND YOU WILL LIST FEMALE ARTISTS OF COLOR AND DOMESTIC VIOLENCE STATISTICS WITH A PASSION. AND YOU WILL DOUSE MY BODY IN LAVENDER OIL TO RELIEVE ME OF STRESS." —Ashley Yang-Thompson
These poems don't just take space though, they build it. The poems in this issue use form and breath to assert themselves. These are poems that topple petrified racists, to grow fertile fields for those living in too often invisibilized realities. These poems restore space.
Where are the lines between poetry and living? Work by people decentralized from the kyriarchy is often read as autobiographical. Though mainstream publications often fail to allot space to the rich web of things that matter to and impact us.
The speakers in these poems control their narratives, invite us into rich interior moments, where even when in doubt or contemplation, their hands remain steady with authority.
"I won't lie to prove music to you,/ music you can't hear outside my skull." —Jason Phoebe Rusch
This is poetry, but these are also our lives. These are community, connection and disintegration, in our space and across vast numbers of spaces. This is us coming together, falling apart, as we find our space, and reclaim the space have always deserved.
"all that i am is a tear without scent, / some oxygen but mostly time / & this is what keeps me guessing / & it's not like we haven't been here before / i can make a handle out of anything / Including my tongue" —Olatunde Osinaike
Sarah Clark​
Poetry Editor, Managing Editor
December, 2017.