My Life
But I had no appetite / The storm had puddled all color into one dark sea / Revived memory or premonition / which is to say / Goodbye to the mud houses dissolved / Goodbye to the unlucky newspapers / If we had left ourselves out there too / in the current to some void / they were blank faced and tired / like all our givings up / Current versions would have to suffice / I tell myself / Let us imagine the renewal / First signs of life—green / green / green—from the winter water burial / or our ancestor creatures driven to the water's edge / to march the shore / or to line the sand with their heavy tails / Starting fresh is starting nowhere
The Other Side of Giving
In the town of still shadows, hand stitched life-size dolls
stand where husbands and sons used to be.
The dolls wear their old clothes, their belts, their socks,
but the boots are still walking since wife and daughter put them on
to muck out the chicken coop, to push the barrow of dry earth,
the women wishing for rain, for water.
In the women's dreams, the dolls promise money
is on its way. There will be enough soon, enough.
The women can't say this. Their eyes smudge, as bits of their bodies
fall loose into the wind. They can't say this as they kneel
before the land in which seeds blow away.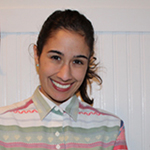 Jacqueline Balderrama is pursuing a PhD in Literature and Creative Writing at the University of Utah. She serves as Poetry Editor for Iron City Magazine and Assistant Editor for Quarterly West. Her work has appeared in Cream City Review, Blackbird, and others. Visit jacquelinebalderrama.com for more.