Phases of separation
Sex enters a room,
windows agape.
Scrapes a figure from its shadow
as the sun crowns.
Wicker chairs'
vaulting silhouettes,
like mangroves,
finger their reflections.
Parabolas, following
their asymptotes,
wicker until the sun distends.
Our faces tuned by light.
This arm, tangent
my shoulders,
smooths deviant angles
and extends others.
The mute television
sighs onto the opposite wall
not unlike light
unwound by water.
A Picasso:
one face of the moon
kisses the other,
cowering behind night's silkscreen.
Two figures
connected at the throat
and groin, we join,
pulling tides out of still water.
Atavism
My body arrested, regressed, sleeps restless for days.
The cat on my lap climbs every breath, purring. Have I imagined a change in her attention over the year?
I keep a dream journal, adjusting my gender accordingly each morning.
How to love a girl for her long limbs, bones like a cat's, supernumerary breasts?
Primal mammary ridges emerge. Invisible underskin, dissolved over millennia by evolution. I'd wondered if the third breast would respond.
The men on television don't understand the significance of bathrooms.
Gossip with porcelain lips, daily autopsies in the mirror. Painstaking distortion by doses. An underscoring of the body transfixed by needles.
I'm in middle school again, being recruited by the pretty girls. They're testing my blood.
Before I get my passing grade, they ask: lift your skirt, girl. show us your work.
A coyote in the choleric throes of voice wakes others from thin air; I jolt awake, tits raised. The cat whines, lapping milk from my cupped palms.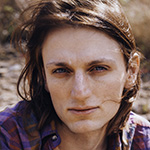 Valentine Conaty grew up in Birmingham, AL. In the past three years, she's lived in four cities in four states across the Southeast and East Coast. Currently, she lives in Queens, NY with a partner and a ragtag family of practicing artists. Her work can be found (under various former aliases) in Educe, THEM, and (b)OINK. Follow her on Twitter @queertrix.