Rebellion
My grandmother asked if I would ever
have a garden. In the end, her body pulsed,
pumped rabid cells. Her skin radiated yellow,
the color of dying lights, nothing like the color
of her roses when I was child. She did not wear
gloves to sculpt the flowers in the front yard. Even
in winter, she lifted out life, one mound at a time.

When I landed that July, she had not seen
her garden in decades, its thick, delicate vines
the color of coffee, strung together with twine.
The head of each rose a hat, some timid, slight,
others anxious shades still waiting for water
and sun. She loved them with blades and blood,
spent her days coaxing them into colors.

In the time of Pinochet, the flowers grew
under her hands. They clung to her voice.
Prayers for children, a son, a daughter hunted
into exile. They fled to live, to escape the general's
machine of torture invading the ocean, the vineyards,
the mountains. Left behind, she pruned in silence,
planted flowers of rebellion, waited for the fall.

When I saw her last, I lied about having
a garden. She grew so small, the yellow-green
of dry, withered ferns. I would have garden
somewhere in the hills of a state she never knew
about, could not pronounce, find on a map.
But she willed it into being those thirty years
before when she planted my return.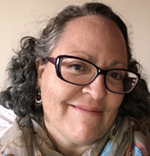 M Soledad Caballero is Associate Professor of English at Allegheny College. Her scholarly work focuses on British Romanticism, travel writing, post-colonial literatures, WGSS, and interdisciplinarity. Her poems have appeared in The Missouri Review, The Mississippi Review, the Iron Horse Literary Review, Memorius, and Crab Orchard. Her poetry manuscript-in-progress is titled Immigrant Confessions and explores immigration and migration, state violence, and masculinity.