femmesub
We are understandably afraid of blank screens.
It's almost too much time to hide out, too early given over.

Never comprehensive, we fail our tests, with purpose
futures' pawn, and wailing we just let slide.

Luring you from bed, into love words, onion bread,
Hungarian salami, bossa nova, all fingers to dawn.

You'd dress me in mesh and lace, I'd dress you
is the problem. What kind of girl does that?

So eager to throw you down, bitch you out.
Near these old books; on the phone what I won't do.

Poured country pie, poured midnight's girth
I'm thickened, pregnant or smoldering…

Dust is poor lacquer, but about my desk, endless piles
planted heaps of business cards, receipts, family photos.
Dragging Badly Behind

i.

Did I censure you? Well worn, the defense of in love.
Please could I give it again? Not the gift, the quiet's bite.

Like water is higher in this zone and warmer now than forecast.
Didn't notice? Dragged around, too many are royal eating out.

Do you ever think you might want escape? would live with carpets?
employable thoughts? wretched punctures in sounds, cartoon

crackly edges of the thing pulled from how you feel, barely
audible? Earn the urge to throw up, clench teeth.

Menacing, she's in the light's withdrawal. Medicated
wants a breakfast, to extract payback or playback

when separated from their parents, children
who were raised by ear, dirtbags, tied up for years.

In prison, in their country of white granite between
bottom and sky, face stricken true from the world.

Chirp: it is not a fair thing. What is a fair thing?
Just know if I sounded like a hotel, I was. You decide

dragging isn't over the hump. Stolen thing about
being in love likes to have stirred before

hounding the repetition. Placed on the mat, being
readies you forlorn into fall.

Childhood's rushes stall all about my analysis
as if placed on the royal ride, just so.

Bobby pinning lights to what happened, green
shadows across someone else's library steps.

At night, its bunk, faint impressions of all night
oil stains, flaked skin and hairs, oils, snot and found.

Most people aren't white, but in certain lights
some of us utmost, skin olive crepe or crayon in—

Not too shabby, lanky black haired buyer, funerary
mood, whipping about what you'll do,

interviews with past selves, its imposters, heirs
and cheats. Feign wishes easily put down

fastened feet on land no more. Tried out,
without solace the night before, it's in fires.


ii.
Sail ferries are lithesome, easily disdained
how sea rocks are patient, knowing worn slick.

Time plateaus, when we loved and others,
fleeting hinged together words for things,

mannered dis-interruptions, or not even
screens, glimpse forecast form from

iii.
(i just miss oceans do you do you?
If i didn't live near you
choose! No, you! Would i would you just
fault at sex again lend body
or two what again what races
feeling were
a wheat shaft in a red field taken

free times holding hands
later you narrate it at a dinner party like a story

i didn't at sex again my father's
"I felt" falsified you guess
where oceans live, again do you? do you? amiss

only she didn't show up, did she?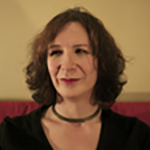 Born in Halifax, Trish Salah is the author of the Lambda Award-winning Wanting in Arabic, and of Lyric Sexology, Vol. 1, and co-editor of a special issue of TSQ: Transgender Studies Quarterly, on Transgender Cultural Production. At the University of Winnipeg she organized the conferences, Writing Trans Genres: Emergent Literatures and Criticism and Decolonizing and Decriminalizing Trans Genres. Her writing is available in recent and forthcoming issues of Angelaki, The Capilano Review, Sinister Wisdom, Somatechnics, and Vetch: A magazine of Trans Poetry and Poetics. She is assistant professor of Gender Studies at Queen's University. You can find her on twitter @anasemia.