Coconuts, Done Threeway
.isa.
one time my filipino ex ordered
this dvd in the mail you know back
when porn had more steps you know catalogs
& shipping times starring this brown af
gorgeous pinay her name long forgotten
playing a maid with the other hot brown
maids on their knees brown knees & asses &
yt men & that brown on yt on brown on
yt again & again are what comes to
mind when i hear people called coconuts
..dalawa..
Sometimes (not often) I wonder if I
am just an impersonation of an
impersonation. Nanay wasn't born
in the Philippines and neither was I.
She cooks food off of tutorials on
YouTube, IGTV, and Facebook groups.
Murmurs Taglish curses under her breath.
She calls me Anak. I pick up her words
like fallen coconuts and when no one's
around, I crack them open—what a waste!
They are dry inside, husks double-sided.
No wonder I feel hunger late at night.
..dalawa.. [extra credit po]
Minsan (hindi madalas) ako'y nagtataka kung ako
ay isang lamang pagpapanggap ng isang
nagpapanggap. Hindi ipinanganak si Nanay
sa Pilipinas at hindi rin ako.
Nagluluto siya ng pagkain galing sa mga tutorial sa
YouTube, IGTV, at mga Facebook grupo.
Nagmumura ng mga pabulong sa Taglish.
Tinatawag niya akong Anak. Dinampot ko yung natak niyang salita
na parang mga niyog lang na nahulog at kapag walang sinuman
sa paligid, biniyak 'kong bukas—SAYANG!
Tuyong tuyo na sila, mga bunot ng niyog na magkabilang panig, sa loob at labas.
Aba, kaya nanatiling gutom at walang laman ang sikmura ko buong gabi.
…tatlo…
// There was this dream I had / that I was an
Old West gunfighter / and somehow I knew
my name was Manila / Mae and maybe
I had just / read Pretty Deadly / where ghosts
are more deadly than people / but people
keep you alive / after they cut pieces
of / you so maybe let's not judge / and back
to my dream I was /decked out in a mad
hot braid / under a bad guy hat you / know
the ones for bad / dudes or anti-heroes
or /reluctant revenge-seekers / or like
moral relativists / or villains with
a conscience / or repentant killers / or
redemption hunters It was / a black hat
and so like I / had enough guns to weigh
down my belt Violence is heavy / even
in packaged form The /Manila Mae me
was like / standing in a crowded / what do
they call it / thoroughfare /no wait / more like
an empty except for the dust / winds kind
of vast flat desert /no one there but me
black-hatted / iron-heavy / soul-weary
Manila Mae me / in Cinerama
widescreen 70 mm frame
looking out / over / the America
that hated / Brown skin / in spite of an / un/
forgiving sun / exposing / every / shadow / in the
West /
….tapos na….
"We say we are Filipino; we say we are American, so, who are we,
more so, what are we; brown or white; or are we still "other"?
— From " Ang Kundiman ng mga Niyog sa Amerika: The Lament of Seven
Hundred Seventy-Four Thousand Six Hundred and Forty Coconuts" by Fred
Cordova, in a book you have to know (which is to say you can't stumble across it)
to find it in a library or a bookstore called "Filipinos, Forgotten Asian Americans"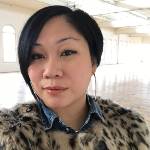 Pamela K. Santos is a Pinayorker writer and artist-scholar working with multilingual materials and archival embodiment. Pamela has received support from the Sustainable Arts Foundation, Oregon Literary Fellowship, Caldera Arts, Mineral School, and Regional Arts & Culture Council, among others. Her poetry appears in Cultural Weekly, Anomaly, Stoked Words, Tayo Magazine, and elsewhere. She is working on her debut collection Secret Lumpia.
&nbsp