Smile
"I wouldn't leave it for nothing only a crazy man would
So, if you catch me in your city, somewhere out in your hood just say…"- Nelly
If I'm brought back in a new act as anything,
let it be some mean mugged, black lipped,
thicken mouthed man's gold fronts. Let me
know the spoils of being in a black body
without cessation. I want to be like Trayvon's
grill all gilded and gleaming, proof of our stunt
both nuanced and ancient. In this life let me
know the front of a nigga's prayers. The floured
will float to their god and go to war. And whatever
they've shut their eyes to envision some sort of end to
will do that. End. Cause who could say no to gold
dusted prayers. Every word worth something then.
In every picture you'll know me. Don't care
what they say we ain't supposed to do. We'll eat
together. Even when the world rather his jaw hinged
I will rip apart things in the fashion that teeth do.
only this time in luxury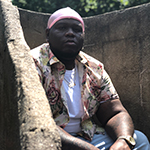 Jo'Van O'Neal is a Black poet, content creator, and teaching artist currently based in Savannah, Georgia. He is a fellow of The Watering Hole and a Hurston/Wright Foundation workshop Alumnus. In 2018, he was an inaugural Open Mouth Readings Writing Retreat participant. His work is featured in Foundry Journal and Tahoma Literary Review.
&nbsp