I call this one "Not Hating Your Own Kind"
Mannequin fingers are soft if you can unwind them into realness. Plastic has a place in my household. What's a plastic flower? Delicate and immortal all in one. I love a created thing. I love fucked-up things just a little too much just because they're fucked-up, y'know? I love a fucked-up looking doll with a big head and broad shoulders. In the beginning we were asked to name the world. It's the part of creation we were given. I get to say what a thing is, you know, as my birthright. I get to draw the lines.
I write my name. I write my own name, over and over, in the Book of Life.
I call this one "letting me see myself in the mirror." I call this one "self-honesty." I call this one "an act of vicious rebellion." It goes like this: I love you. I love you and I'm not afraid of saying that. I couldn't bury your bones even if I wasn't sobbing and I thought I could dig. I couldn't. There's something desperate and unkind about coveting snowflakes as they fall, in all their spindly and wavering tragedy. All of this could be gone in a second. All of this could melt in my palms but I'm sorry, I just need to hold it close to my lashes, let the crystals see my tears. This is what I mean when I say "we need each other more than we need ourselves."
Before there were names there was the water — the water that hadn't been allowed to name itself. The water is old, and bitter, and wants to make us like her. The water would like to drown us one by one, it would love to seep out of our bones, where we buried her, like a child. It would love to hold us down by our throats and smother us while we thrash and thrash and apologize to our fathers. Look at me. I'm in the water with you. I'm right here. Have some of my breath; it's why we kiss.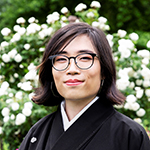 Nora Hikari is a poet, artist, and Asian-American trans lesbian based in Philadelphia. Her work has appeared in or is forthcoming at West Trestle Review, Perhappened, and Ogma Magazine, among others, and her poem "Deer-to-Fish Transition Timeline" has been nominated for the Best of the Net award. Her debut chapbook, Dead Names, is forthcoming at Another New Calligraphy. She can be found at @norabot2.0 on Instagram and at her website norahikari.com.
&nbsp