CLOSET
after Gertrude Stein's Tender Buttons
CLOSET
Something like crying but your eyes are a lock. Lazy buttons. But whether green is dirtier than choke. Or a green green dress with no sashes to whisper all a thing of raise and clock and supple and pardon warring to escape or give. If stomach impressing a band of stretch or hips to denim. A belt is a line of finely. And surely the implications of leather. How the stiff stiff yellow plus blue when out of. What of yield and yearning and boy stored comfort.

CLOSET
Pressure in a body and the sense of the senses sensing. Or a thing without textile without tactile or closing or latching if always open like a gap in the wall.

CLOSET
Waiting to reap in patchless denim. The time is now and the red scarf hanged in the doorframe. Death in bacon and a blue eyed mister mister. The one way out is a blue eyed boy silent and silencing. What a walk in. Troubles the time and the people feeding a feel of green. Suggesting something is a him by walking dangle. How doubt greens into. A surface sure found finding her. Oh what a wardrobe pleasure. Oh the boy is a seether. If pleasure then baked into cocksure. What is the belt like? It is not anything like pig it is not hanging from a hook it is not a green thing not a blue thing it is more hurt and has a little hoop.

CLOSET
What a stench in the sleeves and the trenches of trenchcoat opening to the absence of an absence. This is most reasonable. The way a leg letting. If curves with no cure then the answer is simple. Like addressing shirk into dirty and sweatstains and silence and pursed and track marks. Deodorant. Spritz outside the uniron. It is harder. This is a mess.

CLOSET
Suppose there is an I. Suppose the I is more places that are not shelves. If there is nicely it is a full closet. And sometimes an untorn. Nicely shirt nicely closet. Blouse blouse blouse blouse blouse blouse blouse. Lousy loose low shoes without loafers. If there are boots they are wide and trying. Objection to an ease without splendor.

CLOSET
How red the impression of an absence.

CLOSET
All slackly an attractive. A fluorescent a floral enmeshed and a chance to be hidden. How made in lace or handsome. How pretty. At any rate this room shows the whole of using. It is very likely roomy.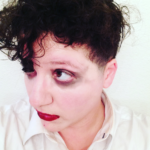 Elana Lev Friedland is a writer and performance artist. Their work has appeared in Cartridge Lit, Cosmonauts Avenue, Salt Hill, The Rumpus, Black Warrior Review, and elsewhere. Find them online at www.elanalevfriedland.com.
&nbsp