FEATURED IN THIS FOLIO:
Regardless of your personal entrance to ideas on The Future™️, speculation as a literary device opens us to the imaginative & terrifying. Moreover, any ideation of futurity reveals the limits & expanses of the present's projections. Meaning: how we are able to see the future is related to how we are able to see the present.
This folio looks to Trans & other post-gender writers using the mythos of science fiction, speculation, & experiments in language to create new rhetoric for the future & more intentionally, Trans Future.
Ryan Tarr in "the spiral is the object" writes "there's a word / or texture / scent / that i've been exposed to / about the purification of bones". This folio surveys the various skins, mods & features of trans imagination. There isn't a specific thing that makes Trans work "Trans" but these pieces are holding the wholeness of that experience with all the realities available.
This folio floats on questions both to the reader, trans kin & cisgender voyeur, as well as reflectively back to each speaker. In "Memphis Opera Blues" Catherine Chen asks "Who is the cyborg? I ask myself. Who am I asking for?". Ethan J. Murray asks "Is it possible to oversugar the earth?" Questions of directionality, self & place color this portfolio with little determination for answers.
Still, there is tenderness in our fears & hopes for the future. How do our speculations reveal the vulnerabilities that surround us? In the short story Noel Jones' "Reassignment", the protagonist assures her mother her procedure won't be so mortally devastated. "I'll live in the ocean, Mom. I wouldn't be far, if you wanted me." The future always hold a level of distance & these works map the topography across.
Please enjoy this collection of daring, gentle, & innovative work by Trans* Writers imagining the more possible.
jayy dodd
June 2019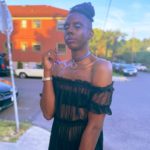 JAYY DODD is a blxk trans womxn from los angeles, california– now based in Portland,OR. she is a literary & performance artist. her work has appeared / will appear in Broadly, The Establishment, Entropy, LitHub, BOAAT Press, Duende, & Poetry Foundation, among others. she is the Executive Director for Dovesong Labs (a development of Winter Tangerine), editor of A Portrait in Blues (Platypus Press, 2017), author of Mannish Tongues (Platypus Press, 2017) & The Black Condition ft. Narcissus (Nightboat Books, 2019). she has been a Pushcart Prize nominee, co-editor of Bettering American Poetry. her visual & written work has been featured in West Hollywood, Portland's Institute of Contemporary Art, Teen Vogue & Entropy. they are also a volunteer gender-terrorist & artificial intellectual. find her talking trash online or taking a selfie.