30 seconds to reboot12345
oh Maker, have you ever loved/ or known just what it was?/ I can't imagine the bitter end/ of all the beauty that we're living in
—Janelle Monáe

---
1                              for those silent 

frantic

 chapters 
 a long hallway I have ghost whispered at the edges of for centuries
                in this machination I called my warp of a brain,       whirring/coils 
  beneath the outermost layer of my fuselage       where anyone 
                who looked hard enough could see the way I either worked 

or didn't




2         a ragged prototype,       work/half-life balance  to perform, I engineer

ed;

       adapt

ed;

    
  my mechanism

s

       my fuck you anyway brand of coping              shortcut product

ion


                flick the switch to feel happy              blunt the crashing:


3  still, I fluctuate—       mercurial, some would call it, when one is never the right amount 
                                                              of lamplight, measly filament in an incandescent lonely


4  consider fascism, a

n

 new old reason to make every self-destructive decision possible
         

approximately-

organic shambles       grappling with the threading;       the cogs


5                    

finally

, I looked at myself & decided to act with kindness 
        improvised & twitching                  an unused muscle group
  now, as I take the moment     to stop,    I realize how 

much

 I 

have continued

 hold

ing

 in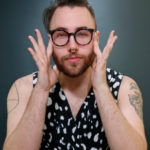 A transdisciplinary writer, teaching artist, and facilitator, alex was born and raised in and around Ann Arbor, Michigan. Currently a lecturer with the Program on Intergroup Relations, they are the recipient of the 2019 Michael R. Gutterman Award in Poetry, Highest Honors in Creative Writing & Literature for their manuscript of poems entitled trans-corporeality in 2017, 2nd Place in the 2017 Current Magazine poetry contest, and the 2015 Jeffrey L. Weisberg Memorial Prize in Poetry. In addition to studying Creative Writing and Literature, they received their Master of Social Work degree from the University of Michigan as a National Community Scholar. With Yoseñio V. Lewis, they are the co-author of the chapter "Place, joy, and self: trans justice and community organizing work" in Social Work and Healthcare with Trans and Nonbinary Individuals and Communities (Routledge, 2020). Their poetic work is forthcoming and/or has appeared in Current Magazine, Café Shapiro, the Michigan Daily, the anthology Uncommon Core: Contemporary Poems for Learning and Living, and others. Their poem "30 seconds to reboot" was selected for the Michael R. Gutterman Award in Poetry.