Creation Myth
[…]
jubilee (wipe) data (creek) aqueduct (of estrogen) humidifier (¡!¡!) caustic memory (burst) trans (crypt) jubilee (wipe) data (creek) aqueduct (of estrogen) humidifier (¡!¡!) caustic memory (burst) trans (crypt) jubilee (wipe) data (creek) aqueduct (of estrogen) humidifier (¡!¡!) caustic memory (burst) trans (crypt) jubilee (wipe) data (creek) aqueduct (of estrogen) humidifier (¡!¡!) caustic memory (burst) trans (crypt) jubilee (wipe) data (creek) aqueduct (of estrogen) humidifier (¡!¡!) caustic memory (burst) trans (crypt) (crypt) trans (burst) memory caustic humidifier (¡!¡!) (of estrogen) aqueduct (creek) data (wipe) jubilee jubilee (wipe) data (creek) aqueduct (of estrogen) humidifier (¡!¡!) caustic memory (burst) trans (crypt) jubilee (wipe) data (creek) aqueduct (of estrogen) humidifier (¡!¡!) caustic memory (burst) trans (crypt) jubilee (wipe) data (creek) aqueduct (of estrogen) humidifier (¡!¡!) caustic memory (burst) trans (crypt) (crypt) trans (burst) memory caustic humidifier (¡!¡!) (of estrogen) aqueduct (creek) data (wipe) jubilee jubilee (wipe) data (creek) aqueduct (of estrogen) humidifier (¡!¡!) caustic memory (burst) trans (crypt) jubilee (wipe) data (creek) aqueduct (of estrogen) humidifier (¡!¡!) caustic memory (burst) trans (crypt) (crypt) trans (burst) memory caustic humidifier (¡!¡!) (of estrogen) aqueduct (creek) data (wipe) jubilee jubilee (wipe) data (creek) aqueduct (of estrogen) humidifier (¡!¡!) caustic memory (burst) trans (crypt) jubilee (wipe) data (creek) aqueduct (of estrogen) humidifier (¡!¡!) caustic memory (burst) trans (crypt) jubilee (wipe) data (creek) aqueduct (of estrogen) humidifier (¡!¡!) caustic memory (burst) trans (crypt) jubilee (wipe) data (creek) aqueduct (of estrogen) humidifier (¡!¡!) caustic memory (burst) trans (crypt) (crypt) trans (burst) memory caustic humidifier (¡!¡!) (of estrogen) aqueduct (creek) data (wipe) jubilee jubilee (wipe) data (creek) aqueduct (of estrogen) humidifier (¡!¡!) caustic memory (burst) trans (crypt) (crypt) trans (burst) memory caustic humidifier (¡!¡!) (of estrogen) aqueduct (creek) data (wipe) jubilee jubilee (wipe) data (creek) aqueduct (of estrogen) humidifier (¡!¡!) caustic memory (burst) trans (crypt) jubilee (wipe) data (creek) aqueduct (of estrogen) humidifier (¡!¡!) caustic memory (burst) trans (crypt) jubilee (wipe) data (creek) aqueduct (of estrogen) humidifier (¡!¡!) caustic memory (burst) trans (crypt) jubilee (wipe) data (creek) aqueduct (of estrogen) humidifier (¡!¡!) caustic memory (burst) trans (crypt) (crypt) trans (burst) memory caustic humidifier (¡!¡!) (of estrogen) aqueduct (creek) data (wipe) jubilee jubilee (wipe) data (creek) aqueduct (of estrogen) humidifier (¡!¡!) caustic memory (burst) trans (crypt) jubilee (wipe) data (creek) aqueduct (of estrogen) humidifier (¡!¡!) caustic memory (burst) trans (crypt) jubilee (wipe) data (creek) aqueduct (of estrogen) humidifier (¡!¡!) caustic memory (burst) trans (crypt) jubilee (wipe) data (creek) aqueduct (of estrogen) humidifier (¡!¡!) caustic memory (burst) trans (crypt) (crypt) trans (burst) memory caustic humidifier (¡!¡!) (of estrogen) aqueduct (creek) data (wipe) jubilee jubilee (wipe) data (creek) aqueduct (of estrogen) humidifier (¡!¡!) caustic memory (burst) trans (crypt) (crypt) trans (burst) memory caustic humidifier (¡!¡!) (of estrogen) aqueduct (creek) data (wipe) jubilee jubilee (wipe) data (creek) aqueduct (of estrogen) humidifier (¡!¡!) caustic memory (burst) trans (crypt) jubilee (wipe) data (creek) aqueduct (of estrogen) humidifier (¡!¡!) caustic memory (burst) trans (crypt) jubilee (wipe) data (creek) aqueduct (of estrogen) humidifier (¡!¡!) caustic memory (burst) trans (crypt) jubilee (wipe) data (creek) aqueduct (of estrogen) humidifier (¡!¡!) caustic memory (burst) trans (crypt) (crypt) trans (burst) memory caustic humidifier (¡!¡!) (of estrogen) aqueduct (creek) data (wipe) jubilee jubilee (wipe) data (creek) aqueduct (of estrogen) humidifier (¡!¡!) caustic memory (burst) trans (crypt)
End of transcription.
Ghost | Girl | Cypher
i think i'm mourning
in my dream, my dad is dead
my dad his hija
trans girl & her wrath
in the dream land, needles
puncture toward ghost
something out of time
how can i be okay tonight?
bones weave & i awl
a vine of uvas
& i don't know why i feel
love-but i do love
the valley woman
solders into wrist a pair
trans girl & her dad
flo werg hostca sket
woozy woozy breasts appear
something out of time
shapeshifting casket
glamor a home to sleep in
my skin clean of him
de-gloss all the wrath
like i owe him anything
this fantasy land
i wanna be / am
a single point in spacetime
flower ghost casket
& divine femme juices
or at least the dream of them
shapeshifting mutant
puncture a question
build a papier-mâché hut
de-gloss lips to eat
so i'm left with zinnias
i can be a woman i
an ancient valley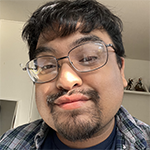 Rodolfo Avelar is a poet and visual artist from Fresno, CA. Their poetry projects queer people of color into science fiction, the future, outer space, and queer liberation. They hold a Bachelor of Arts from Fresno State, where they studied English Literature and Creative Writing. Currently, they are an MFA candidate in Poetry at UC Riverside. As a Milkweek summer intern in 2019, they designed and edited book length poetry manuscripts. Their poetry can be found online at the Acentos Review and COUNTERCLOCK, and forthcoming in Até Mais: Until More, an Anthology of Latinx Futurisms, and Pleiades. They hope to publish, edit, & teach poetry, perfect their desk set-up, and play some video games along the way.