Masc for Femme
It's a lot, this wanting
to keep sweetnesses, exist outside
of conservative status quo bedrock—
to be loved, respected and desired—
Devil Moon, I have no idea
about feel-good, or making-the-most, or bra-sizes—
But these sparks rise out of the ground—
climaxes, anti-climaxes, the glory of
delicate silver chains, loud brassy fake jewels,
deviant afterlives, mysterious treasures,
slugs with bold black etchings against pavements—
a glossary of resistances. there's something
lost, singing—
The Devil Moon
presses her fingers deep into my dimples,
making me forget sweaters, curse love terms
embedded into me like chunks of terracotta—
works me over, leaves me dressed
in flowers, sprayed across my chest.
Ordinary Talk
Writing as investigation: how disabled bodies mark us out,
but invite us into dreams of different futures.
Dreaming that feels like foraging,
like an occupation.
This year has been tiresome, overlaid with struggle,
pain singing right through it.
If yelling is an inquiry into the resentments of others,
afterwards: how long must we rest?
Is it death to accept exasperation,
to run on a streak of take take take?
Working on poems, which neighbour the
all is well. alles ist gut.
Writing as learning how to open, to love so fiercely, to understand the
all is well. alles ist gut:
(1) to pay in carelessness; to capsize;
(2) to push prams, use fancy moisturisers; to be spritzed with pleasure;
(3) actions modifying clamouring egos; to sleep in a bed assured of one's work;
(4) to be competent in the challenges of this time; to struggle;
(5) open up, open to me; tell yourself you can, then recognise me; let us spin together in the cool water;
fear fogs my thoughts
but I shan't forget the drop of anguish,
the blood, the mask thrown down,
the angers I try to somehow unfeel
in the back of my throat.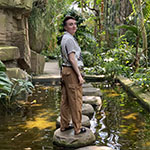 Dylan McNulty-Holmes (he/they) is a writer based in Berlin. His writing has been hung in a corner store as part an art exhibition, live-scored by a disco band, made into a T-shirt, and performed in book shops, sex toy shops, galleries, and burger bars. It work has also been featured in publications including Visual Verse, Femsplain, and DADDY Magazine. These poems are from a chapbook-length collection, for which he is currently seeking a publisher.