Insomnia
Hibiscus, slim in hand, smoking what ought be spoken. Trite tripe transcending bitterness into tribalist peacekeeping. Boorish convulsion inserting pleonastic adieu to quidnunc's deathbed. Transversal transparency performing pas de bourree for audience of boors.
Assommant
Nesting song on a balcony of sun distilling the partiality of the I into the sonority of clarity.
Absentminded softness instinctually awakening ball gowns and verdure on rail of elements.
Thinly veiled imbalance freeing primordial flight through a looking smile of retenue.
With
Taut onde dramatizing urgency towards an inelegant incandescence /wood in lubricated machine of cultural insignificance and filial splendor. Seared gradient districts justifying intrinsic values of divisible accord/ consensus for mea culpa of none and suppression of all sense-acute partiality. Sheet of race marching in one kindness/spear the reversal of millenia of conflation from/of/at board of social constructors. Dashing sore of ominous baseness barking a purr at the balance of a glorious high noon firmament.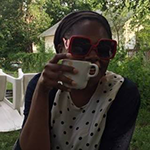 Stephanie Jean is the winner of the BOMB Poetry Contest 2020 Judged by Simone White and a Cave Canem Fellow. Her poems have appeared in [PANK] and The Southampton Review.
&nbsp