Delusion is not the crisis
No line, no we want to be kids again. We want to be friends. No worries
where the punctuation ends. No in over your head. The birds got bones
but still they bend. Ain't hollow yet. Once. Poems playdough they, they
won't know. They forget and so we get to relive. We spring. We get to
sing. Off key, off beat, off these swings. The knot knowings. These
speakers wheeze. Music. He's funny man. He sleeps. He'll wheeze. We see.
Once we were glad all at the top &. Sing. Say, sycamore. We've seen these
things. We found stuck down in celery heart God. We've seen flowers
saying let me be. We get to say see this this is not a test. See/saw. Saying
this is not a drill. Birds pecking for oil. We get to see this. We see you,
men on the moon. Once in a sycamore. Your best shot, Doctor, Doctor.
My arm bone connects to my shoulder bone. I've got a bad case. I get
chills. We hear. Voices. Once we were glad all at the top. We end stop.
We begin to wheeze. We seize. We grow these wings. Fly but forget to be.
In a sycamore. We sang. At the top. Once, we put words in our mouths.
Extimacy of a collective trauma
The patent fear upon which we let rest our biases
creeps upon us like a network of knowing cells.
A drop of Pom spreads throughout a white shirt
in the wash, forces slipping red beads all along its
spindled fibers. The TV blares the capillary action
of a whitewashed war. We tremble until polished
anchors shed tears for the truths they will not say,
and these flow out with the washing. Thin plastic
shirts slip over us like a pleasure smooth enough
to choke on. They flood down with leaflets gone
unread to the sewers, push fatbergs and jetsam,
microfibers coalescing as a network we cannot see.
Red elastic spurts slip over us like a pleasure smooth
enough to choke on. We discard bodies as if they
were our own. Our skin grows into its own stain,
is its own reverse, its insides outed and unready
for a wretching, sicklife world. The only thing left
the soldier took up close was his very own self.
If only God
could have made that seem more true. Discard-
ing these hells as if they were my home.
Author's Statement:
The first result on YouTube when I search "extimacy" is a woman who has put on a variety of wearable technologies for a year and has not taken them off. She is at a loss but is excited to try out something called a mood sweater. What she is wearing has not given her extimacy, which she describes as allowing people (including herself) an insight into—I guess—her unconscious, which, confoundingly, she also calls her self. I wonder what she calls the technologies. She is a data scientist.
That is not the extimacy in my poem, and yet my alarmed reaction to the video is emblematic of what I wrote about in the poem. Extimacy, a Lacanian concept, is just what mathematicians call a mapping, a (topo)logical collapse between what we so often suppose are fixed opposites, self and Other. Such an encounter with what is "strange to me, although it is at the heart of me" can indeed be transcendent, but it is also sure to be terrifying. The extimacy in my poem is that of the mood sweater's surveillance capitalism, of the so-called War on Terror, of coded messages, and of ecological collapse. A collapse of the binary keep, self/Other, that happens again and again. But these traumas are collective; the Other here is big. Illegible as it may be, this poem is one of witness and protest, not memoir.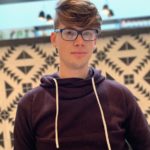 Jacob J Billingsley:  I'm a queer bipolar poet in St. Louis, and I write most often when I am manic or hypomanic. I aestheticize worry and hurt. I love deceptive syntax. I don't know if writing is a way of transcending or transceiving. I have a B.A. in English with an emphasis in creative writing from the University of Missouri. I serve on Carve Magazine's poetry committee. This is my debut publication. 
&nbsp