En memoria (in memory)
1 INT. LIVING ROOM – DUSK 1
We open on SOL,14, Chicana Japanese mix, staring into an adjacent room: a dress making studio.
In the center of the dark, finished goth-inspired QUINCEAÑERA DRESS on a DRESS FORM.
A BEEPING ALARM grabs Sol's attention and she glances behind her.
At the back of the living room next to an Mexican/Japanese ALTAR sits LUNA VASQUEZ, Mexican Indigenous woman, 40s, sitting in a chair, a BANDAGE on her temple.
In front of Luna is a small COFFEE TABLE and an EMPTY CHAIR the other side.
Luna turns OFF the alarm on her WATCH.
LUNA
[to Sol] Do we have an appointment?
Sol turns away from the dress and walks to Luna.
SOL
The Burkes people are coming.
Luna is unfamiliar with the words.
Sol walks over and tidies the living room.
LUNA
Did you look at the quince         
invitation samples I picked up?
SOL
I'll look at them later.
LUNA
I like the white ones, but I know
black is your thing.                        
Sol does not respond.
LUNA (CONT'D)
Can you imagine Tia Lulu's face    
when she opens the envelope and
it's an all black invitation?             
SOL
We need to get through this exit           
interview. Can we just do that?             
Luna looks curiously, agreeably, at Sol.
LUNA
Yes, we can do that, Mija.
The DOOR BELL RINGS.
We follow Sol to the front door.
2 INT/EXT. FRONT DOOR – DUSK 2 Through the frosted front door window, we see a silhouette.
Sol opens the door to reveal DEVROS, 30, an Indigenous woman in a BUSINESS SUIT. Devros carries a BRIEFCASE.
DEVROS
Good afternoon.
Sol stares at Devros with daggers.
DEVROS (CONT'D)
May I come in?
SOL
We're a no shoe household.
DEVROS
What?
SOL
Take your shoes off.
Devros nods.
Sol stands aside and Devros enters.
3 INT. LIVING ROOM – DUSK 3
Sol closes the door and Devros sees Luna.
DEVROS
Hello [looks at phone to remember
name] Luna.                                        
Devros, who stands tall above Sol, takes off her power high heels, and is suddenly at eye level with Sol.
She puts her shoes near the dress studio threshold, the dress looms large behind her but she doesn't see it.
Sol walks to the window near Luna as Devros sets her briefcase on the coffee table, and opens it to reveal DIALS, KNOBS, a MONITOR, and other tech.
DEVROS (CONT'D)
It's a bit muggy outside today
ain't it?                                         
Devros walks to Luna, removes her bandage and sticks a SENSOR on Lunas temple.
DEVROS (CONT'D)
Supposed to cool down by the end of
the week though. Thank goodness.  
Sol stares at Devros with fire in her eyes.
Devros sits back down and TURNS ON the machine.
DEVROS (CONT'D)
Luna thank you for having me. I   
will be conducting your exit          
interview. To start, I am going to 
ask you a series of questions to    
help me establish a visual              
baseline.                                             
Devros press a BUTTON.
DEVROS (CONT'D)
Recording, Vasquez, Luna, August    
21st, 6:15pm. [to Luna] Please             
state your name, age and where you
were born.                                               
LUNA
Luna Vasquez, age 42. I was born in
Mexico.                                                   
Devros looks at the small MONITOR built into the machine.
A fuzzy POV IMAGE appears on the monitor, LUNA'S MEMORIES.
ON THE MONITOR: A MAN leans over a PALETA VENDING CART. He hands a PALETA toward the screen. A small hand takes it.
DEVROS
Luna, where were you living at age
7?                                                         
LUNA
In Texas, at an immigrant detention
center.                                                      
More memories appear…
ON THE MONITOR: A MAN IN UNIFORM carries away a beautiful INDIGENOUS WOMAN, Luna's Mother. The pair of small brown hands reach out once more.
Sol stands near the window keeping an eye on Devros. Devros studies the image on the Monitor.
Devros sits in perfect posture and locks eyes with Luna.
DEVROS
Very good. And at age 20?
LUNA
I was in the Bay Area by then.
ON THE MONITOR: Adult brown hands wave out of a car window and catch the air as the city of San Francisco comes into focus.
DEVROS
Okay, moving on. This next set of       
questions will determine if the            
the procedure was successful. [beat] 
Luna, where did you go to college?    
Sol braces herself and looks at Luna.
Devros looks at the monitor.
The video monitor goes BLACK.
Luna searches the ceiling for an answer.
DEVROS (CONT'D)
Did you go to college?
BEAT
LUNA
No, I didn't.
Tears and rage fill Sol's eyes.
Devros pulls a ROTARY CUTTER from the briefcase.
DEVROS
Please identify this object.
The video monitor stays black. 
LUNA
I don't know. A pizza cutter?
Devros puts the cutter away.
DEVROS
Are you married?
LUNA
Widowed.
DEVROS
What was your wife's name?
LUNA
My partner's name was Miyoshi
Watanabe.
ON THE MONITOR: MIYOSHI, non binary, Japanese, face resting on a pillow. Brown hands reach out and caress their cheek.
DEVROS
Where did you first meet Miyoshi?
Sol looks to from Devros to Luna bracing for impact. Luna searches the ceiling for answers.
The image of Miyoshi DISSOLVES to black.
LUNA
I don't remember.
Luna glances quickly at Sol.
Sol walks to Luna, crouches down and holds Luna's hand.
Devros sees this gesture, swallows and refocuses her attention to the interview.
DEVROS
Who is professor Maria Pomo?
LUNA
Who?
DEVROS
How much is the annual tuition at
the California Fashion Academy?  
LUNA
I don't know.
Devros then checks the video monitor which remains blank. 
   Devros studies Luna's face sharply to detect a lie, but meets Luna's eyes.
   Devros pulls out a DIGITAL TABLET with legalese on it. They read the words to Luna.
DEVROS
Luna, we are here – you are here,           
because you defaulted on your               
student loans. In accordance with         
Federal penal code 71-489, Burkes         
Loan Corporation has the right to         
reclaim from you, our property. And    
in this matter, our property would       
be the education you received from     
The California Fashion Academy from
the ages of 18 to 23. On June, 12th       
you agreed in a court of law to              
sign away the memory of this                
education in order to nullify your         
contractual obligation to Burkes.         
Luna searches her mind hard. The memories flood back.
LUNA
Yes. I remember now.
DEVROS
Then I am certifying that all                    
memories related to your time in           
college, skills learned therein, as            
well as all work, and career                      
related memories stemming from said
education you purchased on loan          
have been satisfactorily deleted.            
Devros puts the TABLET down on the table. They place a STYLUS on the table for Ria to sign with.
DEVROS (CONT'D)
Now, if you could just sign here,    
your contract with Burkes will be
terminated and your educational
debt will be absolved.                      
Sol pries Luna's hand away from hers and puts a stylus in it. Luna signs the digital tablet.
DEVROS (CONT'D)
Congratulations, Luna.
In the foreground, Devros packs the briefcase. In the background Luna sits silently as Sol holds her hand. 
Devros gets up and turns to grab her shoes, this time she NOTICES the half-finished Quinceañera dress.
For the slightest moment, Devros BREAKS.
She pries her eyes away, puts on her shoes, turns to the front door and exits.
Sol stares up at Luna, Luna stares at the table.
LUNA
College. [beat] Miyoshi and I must
have met in college.                          
SOL
Freshman year. [Beat] Mamá, you
need to rest.                                       
LUNA
You're right. I need some rest.
   DISSOLVE TO:
4 INT. LUNA'S BEDROOM – NIGHT 4
Through a mirror on the wall, we watch Sol tuck Luna into bed and begin to walk out.
Sol stops at the doorway.
Luna begins to say something but stops.
Sol closes the door.
Off Luna.
5 INT. DRESSMAKING STUDIO – NIGHT 5
Sol stands at the threshold of the studio staring at her unfinished quince dress.
She works up the courage and STEPS softly into the room.
She turns on the CHRISTMAS LIGHTS which illuminate the dress and walls with a soft glow.
She walks around the room reminiscing and stops on an old FAMILY PHOTO of Miyoshi and Luna tacked to the wall.
Finally, she turns to the dress and stares it down.
SUDDENLY, she GRABS the dress and THROWS it on the ground. 
She pounces on it and TEARS it apart.
When her rage subsides, she sits among shreds of fabric. Beat.
A soft KNOCK behind Sol on the studio door frame. Sol looks behind her and sees Luna at the threshold. Sol stares at her mother, horrified at what she's done.
Luna walks over to Sol, standing tall over her, surveying the damage.
LUNA
Looks like it was gonna be a pretty
bad ass dress, huh? Did you help me
make it?
SOL
Yeah. You cut out all the pieces
and I basted them together.
Luna kneels down next to Sol and looks in her eyes.
Luna picks up a scrap of fabric and a stray PIN on the ground and hands it to Sol.
LUNA
Show me.
Sol takes the fabric and pin from Luna and remembers where it goes on the dress form.
She tries to pin the fabric in place, but has trouble managing the task with both hands full.
Sol hands Luna the piece of fabric.
SOL
Can you hold this piece here so I
can tack it easier?
Luna complies.
As Sol tacks the fabric in place, her eyes are locked in shame on the dress form.
SOL (CONT'D)
I'm sorry.
Luna puts her finger under Sol's chin and pulls her gaze into Luna's eyes.
LUNA
Baby, it's not your fault. [beat]         
It's not mine either. So many           
pendejos have tried to make us      
forget who we are. It never works.
Sol hugs Luna DEEPLY.
They pull apart and look at the work ahead of them.
LUNA (CONT'D)
Listo?
Sol nods.
They begin piecing the dress back together, laughing and making small talk, as mother and daughter.
FADE TO BLACK.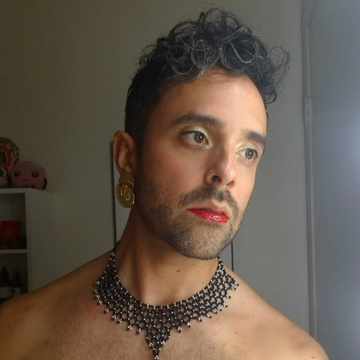 Roberto Fatal [they/them/ellos] is a filmmaker and storyteller. They come from Rarámuri, Tewa Pueblo, Ute, and Spanish ancestors and Mexican-American culture. Their Queer, gender fluid, Mestize/Mixed identity informs the sci-fi, films they make. Their work centers on humans who sit at the intersections of time, space and culture. From this unique vantage point, these characters can bridge divides, see all sides, find new paths forward and recall multiple histories long forgotten. The mixed people of Fatal's stories can connect us deeply to an undercurrent of humanity that we often overlook in a world that is increasingly divided. Survival, intersectional identity, perseverance, love, empathy, community, connection and creation are at the heart of their characters and films. Fatal is a Sundance Film Institute Native Film Lab Fellow Alum and an Imagine Native Director's Lab feature film fellow alum. Their debut feature script, Electric Homies, was selected by GLAAD x The Black List as one of the best unproduced screenplays of 2022. Their latest short sci-fi drama, Do Digital Curanderas Use Eggs In Their Limpias, will make its world premiere in 2023.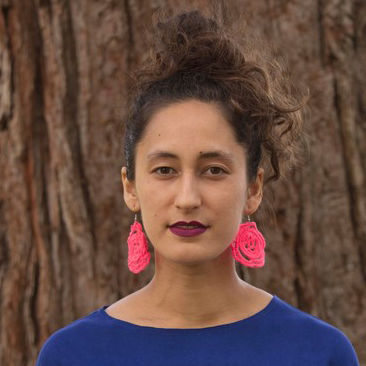 Ali Meyers-Ohki (she/her) is an emerging writer based in Sacramento, California. Her connection to her mixed Japanese and European ancestry as well as her experiences as a cis queer woman inspire her to write stories about identity, belonging, family, healing, history, and the future. Her work has been published by Queer Rain Magazine and she is a 2022 recipient of the Hedgebrook residency. She is currently enrolled in the MFA program at Bennington for fiction writing.
&nbsp