Dear Body—
with a line by Molly McCully Brown and Susannah Nevison
We all pass through death to come into life, though some of us merely pass.
She lost a baby before me. Also a sister. Imagine.
Hearing this story is like breathing air that has not been breathed for forty years. Afterward I go home. I light so many candles.
When I was born, she counted my fingers and toes, then she wept to see me alive. She looked down at me, cradled in her arms, and I was beautiful.
She says it's the light she remembers. The slow, wonder-filled hours.
After giving birth, I woke every night soaked in milk—the front of my nightgown, the sheets; damp stains on cotton. A shape that spreads.
The shape of her story, which I lived in but had no words for, though I wore it like a second skin.
We who begin in this way, surely we can taste it. The tang of melancholy, seeping through amniotic fluid.
Her body, bent over the sewing machine. And me, stirring inside. Stitched from bone, from the pound and yammer of machinery.
The needle's noisy whir, presser foot against throat. Ravenous, eating down the miles of grief.
Difficult beauty, they say, takes time. What happens next is never ours to say.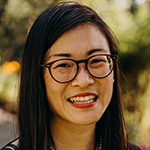 Mia Ayumi Malhotra is the author of Mothersalt (Alice James Books, forthcoming 2025); Isako Isako, a California Book Award finalist and winner of the Alice James Award, the Nautilus Gold Award, and a Maine Literary Award; and the chapbook Notes from the Birth Year. She teaches creative writing at Left Margin LIT and is a proud Kundiman Fellow, as well as a founding member of The Ruby, a gathering space for women and nonbinary artists. Read more at miamalhotra.com.
&nbsp