unfinished abecedarium
a.
I was born with no language. Then, I was given my mother's.
My dad's mother tongue was withheld from me.
As a result, we became uncommunicable.
We speak at each other. We stare at each other.
Our voices are raised until one of us loses hope to be understood.
We live in the absence of one another.
b.
In this language from none of my progenitors,
I hide my own voice.
and what is that? In my first year living in Canada,
I hoped for the day I could dream in this language.
Dreams, the symbol of fluency.
c.
The day my partner and I met, we laughed at my translations.
Such as merde du taureau. It didn't take long before I realized
my languages were useless in my lover's community.
They acted like my father's family: entertained
that their secrets couldn't be caught by the foreigner.
The language of love moved like a betrayal on my tongue.
d.
I betray my first language.
Compatriots say that I sound like a live translator in my mother tongue.
Time and distance make me a foreigner to all languages.
Is my mouth a collapsed shelter? A place of semantic debris?
My tongue, an estranged daughter.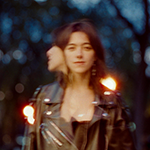 Laura Mota-Juang is a Taiwanese-Brazilian shameless experimentalist based in Tiohtiá:ke/Montreal. Her current practices include upcycling clothing, photography, analogue collage, linocut stamps, drawing, community organizing and writing. You can find her poems at carte blanche, PRISM International, High Shelf, and elsewhere. Laura is the author of Light Spill (Block Party Press 2023), a chapbook inspired by Physic's imagination. To keep in touch, find her on Instagram @imnofiction. Photo by Jean-Michel Moreau.
&nbsp