Our Islands are Subject to Flooding and Still,
On this morning, we unfold in our bedroom. All that is ours begins
to reach for who we water. Two palms stretch from our satin sheet
towards our sky and neither of them are yours. A sun salutation, or
a mirror for how we give, when listening. I wait under the sun until
you wake to touch you. Your heartbeat begins and ends and begins
and how beautiful a drum to remind our hands, our bodies, that we
are alive. Your hand reaches for where you left our music dreaming
and your fingers string until you find a drum, until you find the soil
we nourish, until your pulse begins across my thigh, crawling while
asleep. I witness your dreaming while awake. We unfold under a sky
that is a heaven in my first tongue. We create heaven in both. Across
our waters, our islands, this heaven made here. Mi cielo, we are alive
mi cielo,
we are alive
still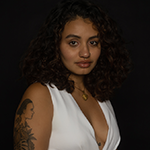 Gisselle Yepes received their MFA in creative writing at Indiana University Bloomington and their BA from Wesleyan University. Yepes is a Letras Boricuas 2022 Fellowship Recipient, a Tin House Scholar, and a 2023 Sundress Academy of the Arts Resident. Their poetry has been featured in Moma Magazine, Gulf Coast, Poets.org and the anthology Sana Sana: Latinx Pain and Radical Visions of Healing and Justice. Yepes' creative nonfiction essay "On Her Waters Summoning Us to Drown" won december magazine's 2022 Curt Johnson Prose Award in Creative Nonfiction, and their film Recordando a Wela was featured on GIPHY.
&nbsp