Triple Sonnet Because My Love Language is Power
               "Divorce is hot," I say at dinner,
because white men keep projecting
               their fantasies onto me, as if they've
never seen an Asian femme with red
               lips & thick thighs & black hair & a mouth
that never stops. If "Things You Can Do
               With Your Mouth" were a Family Feud
category, I wonder how many players
               would say "kissing" instead of "eating,"
or are the two pleasures really the same.
               Noodles spiral in our mouths as we eat
our tomato carbonara, proving how "O"
               is the sexiest letter of the alphabet,
other than "X" that marks the spot,
                                           XOXO,
as in can you find the G in me, or do we
               need help from a friend in delivering
the treasures & pleasures, maybe the Fire
               Man toy, and I love my heroes, but why
is female fantasy so two-dimensional in
               media, or what about the Tennis Pro or
the Millionaire, not Billionaire, because
               he has half a heart, or maybe the Poet. 
A photographer says "power" and I'm
               turned on. He brushes the hair out of
my face, and it's textbook, like the Lady
               and the Tramp move of sharing spaghetti
until you smooch, which terrifies me,
               because that whole movie is about dogs
               falling in love over pasta when everyone
knows canines can't eat tomatoes or onions,
               and I'm fearing for Lady's and Tramp's lives,
even though I know the ending. "Power." 
               Position change. I always say poetic lines
are like camera angles, or is it the other way
               around. We share a soft serve with sprinkles,
the fourth-grade way of kissing. Power. 
               Poetic. We share our desires through food:
I lick our ice cream harder, the serpentine
               S of tongue—he loves that I'm a Snake
Daughter. Is he a beautiful coincidence. 
               I feel the S of his tongue. When I see "GF"
on the menu, I think "girlfriend," not gluten free.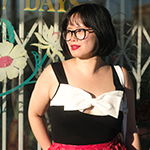 Dorothy Chan is the author of five poetry collections, including the forthcoming, Return of the Chinese Femme (Deep Vellum, April 2024). They are an Associate Professor of English at the University of Wisconsin-Eau Claire and Co-Founder, Editor in Chief, and Food and Beverage Editor of Honey Literary Inc, a 501(c)(3) BIPOC literary arts organization. Visit their website at dorothypoetry.com.
&nbsp