eating cats
tamarinds, cayenne, blue mosques, all hues of white smoke. what is non-black? the blue that sips
under the tuareg's skin, private tours of harems in underground marrakech. what's a cat after all?
divinity? indifference? this is how to cook a cat in tunis: pray to sekhmet, bless it while it it still
alive, allow a quick lick and goodbye to only surviving kitten, skin it as you would a rabbit, blade
cruising between fur and tender muscle, bury the head and feet and tail in the backyard for
goodluck, you'll need this in carthage, in marsala, in your duas and salahs remember those who
await drowning. brown the meat in butter, celery, bay leaf, red wine, sea salt, clovers. simmer for
two hours. mushrooms. a broth is an option. at this point thank those already dead, those that
await you.
The Poet in Port Harcourt
my grandmother's head, wet with blood and incoherence, sits under my bead,
all this time, myself and some friends, waiting for maulidi, walking in black sand, saying, this is how
to love your people. me walking on any kind of bridge to get rid of her head,
the weight of it on my back, language time and fatality, a premonition, like a bag of wild
mangoes, or
the taste of snails in lime water, me saying this is the bridge we must walk over,
your head heavy, your kikuyu unreadable, your love for my mother unknowable,
the ocean too far for me to fling this thing, this head, the river black and unmoving.
and all my friends will see the thing I carry — your head in a backpack —
the quiet homage to a friend who says, 'I love you'. what does medusa dream of?
how is it that after your body there's a field of nightmares?
pissing all over your mother's rhododendrons. what's jujuu, and what's
rhumba, what's benga? what's highlife? and the poet of the clinical blues telling
us all these things by the poolside, not reading to us. promenade.
what is a threat of drowning?
all for you, baby, all for you.
a short exchange of words — arrivals and departures,
you saying nothing, meaning everything. back to the smells of your house,
meatballs and pasta. me going on and on about zephyrion, god of the west wind, british
architecture, hydrangeas, nigerian efficiency, all these men
who've never known kindness, and, here's B, talking about the brotherhood of man.
a woman at a nigerian airport — Lagos — is a disposable thing,
and will you give me all your money, for nothing?
I've had enemies who killed my cats, stepped on my water lilies,
I wish them nigerian citizenship.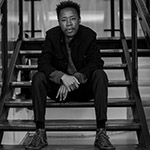 Clifton Gachagua is the author of Madman at Kilifi and appears in a chapbook box set Seven New Generation African Poets. Gachagua is an editor at Down River Road. His work appears in Manchester Review, Saraba, Jalada, Kwani?, Poetry Foundation, The Gonjon Pin and Other Stories (Caine Prize Anthology), AfroSF: Science Fiction by African Writers, Sunspot Jungle, Enkare, Africa39, PEN Foundation: New Voices, and Harvard Divinity Journal, among others.
&nbsp