fever dream sonnet with Francesca Woodman
our shadows spill together like thieves fleeing a crime
through the last ditch of canyons, creeks sheer as hunters' knives too
crooked to find their way home. dusk pooled in hoofprints swallows
the mountains as you reach up & pull down your omen, the setting sun.
i wait for you like i'm waiting for a storm to start but you can't fly
with me hanging on your feet. coyotes smudge the dark's edges
ravenous as a stage swarmed with standbys but what's worse
is all this silence. you push the stars away & let the mice chew
through your bandages, your open wounds the only living proof
the gods couldn't kill you. if there is a way out? burn all the bridges
then the mast—it will be step by step through the black.
the only light willing to linger through nightfall is a rainbow
of motor oil that's kindled one escape too many to catch a spark.
you find your last dry match, strike it, & mourn its bloom.
fever dream sonnet with Francesca Woodman
the animal inside me has learned to stalk through ruin
kindling strewn like spent arrows that skimmed Apollo.
even down here on my belly i see your heels click
& know the score. a spark so close i spit embers when i kiss
the flint. living in captivity, people are known to mimic
each other's tics. as a boy in the projects it wasn't just the convict
in apartment 3 flashing his Beretta, terrifying even the Bible
black pre-drawn, but the snake that escaped the clasp of my teeth.
every serpent's tongue wants a turn with your tongue, piss-warm
fighting like a fire hose. outside the children skipping rope
triple their speed. a hawk's circle overhead is knocked off
-kilter by a horse whip clutched in its talons. if you listen beyond
the piano playing a lonelier tune you can hear someone breath
-close savor your name pleading for a mercy kill.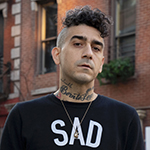 Anthony Thomas Lombardi is the author of Murmurations (YesYes Books, 2025), a Poetry Project 2021-2022 Emerge-Surface-Be Fellow, and a multiple Pushcart Prize and Best of the Net nominee, among other accolades. He has taught or continues to teach with Borough of Manhattan Community College, Paris College of Art, Brooklyn Poets, Polyphony Lit's apprenticeship programs, community programming throughout New York City, and currently serves as a poetry editor for Sundog Lit. His work has appeared or will soon in the Poetry Foundation, Best New Poets, Guernica, Black Warrior Review, Narrative Magazine, and elsewhere. He lives in Brooklyn with his wife and their two cats.
&nbsp