Etymon: Idiay
/id·'jaī/
ᴅᴇғɪɴɪᴛɪᴏɴ:
There, beyond you and me, a million crickets dance a fan dance in the dark bamboo groves. Before dawn, the man wends his way through his flooded field. A frog choir swells deep from the bogland, and from above, a bulbul whistles his clear descant. The man attempts to hum along, but the scale does not register, does not chart against the solfège etched in his memory.
There, beyond you and me, first light dusts a rust orange glow over the man's rice paddy. Leaning against the stone well, a bucket conjures a wish of its own, to ring like the bronzed temple bell, commanding and holy. The man appears at the well and casts the crying bucket into the depths, its metal rim clanging against the damp walls.
There, beyond you and me, the carabao's strong jaw and elephantine haunch. A gentleness belies his bullish face, engine of this industry. A bast fiber rope strung through his nostrils. By this rope, the man leads him to the river to bathe. The beast wades in: his heft, his charcoal eyes, his small twitching ears.
There, beyond you and me, the man's grandmother steps out from a curing shed, her sunken eyes squinting against the rising sun. Even she could not have remembered what the field once knew: the forced quotas, a constant air of suspicion, the threat of a whip. No, that memory was long buried. He helps her bundle cured tobacco leaves to take to market. His eyes meet hers, teary from her smoke.
There, beyond you and me, on a concrete patch the man revs his traysikel, a sputtering rickshaw with a sidecar, enough for two or three: his wife, her brother. The man's young son always perched right behind him on the backseat, where he would hug onto his work shirt and feel the motor's sheer force, thunderous and deafening.
There, beyond you and me, a horse-drawn kalesa strides by, creaking and quaint. From his market stall, the man notices a young tourist: his unworked hands, a clean shirt too warm for this heat. He could be his son. The lone tourist comes to admire the umber fans of cured tobacco. Remembering a song from childhood, he asks for sigarilyas, assuming it means tobacco. No, the man shakes his head:—winged beans. You are looking for winged beans.
Etymon: Langit
/'lä·ŋit/
ᴅᴇғɪɴɪᴛɪᴏɴ:
Who governs this myth
full of sky
               langit      sky 
               sangit      cry
silvered
I have felt this rain 
silver my skin
who governs these myths in the sky
the myths where—
the myths whose
language was native to—
the language whose—
who governs these myths in the sky
in the sky
the sky whose language
the sky whose first language was rain
the sky whose first language was water
the myth whose first utterance was rain
I have felt this rain 
patterning
on my tin roof
I have slipped in this rain's puddle
I have slept in this rain's puddle
I have cried tears which remind me of this rain
tears
whose body of water came from this rain
tears, my tears then, have sought
to rejoin itself with the sky
Etymon: Dila
/'ᴅᴇᴇ-lä/
after M. NourbeSe Philip's poem "Meditations on the Declension of Beauty by the Girl with the Flying Cheek-bones."
a tongue cut in half / becomes sharper
Öykü Tekten
ᴅᴇғɪɴɪᴛɪᴏɴ:

if not ᴅɪʟᴀ
if not my
if not my ᴅɪʟᴀ

if not from here
where if not

from here then
where
are you
from where is
ᴅɪʟᴀ
from

beneath
ᴅɪʟᴀ

I found
—

buried

what can
be called
ᴅɪʟᴀ

unburied
ᴅɪʟᴀ
from ᴅɪʟᴀ

ᴅɪʟᴀ hiding

from ᴅɪʟᴀ

hiding ᴅɪʟᴀ
what else, what more
to lick
tongue, as in lumber
to kiss, lick
to tell a story, a fib

tongue, to lick


tongue
snake fangs

to mock
tongue

to taunt
arrowhead

houndstongue
the spirit tongue plant which wards off evil

tongue, bolt of lightning

flame, blaze
to lick, to lap


tongue
drywood mushroom
lamp of the shadow-puppeteer

to illuminate
to lick, taste
prickly pear, tiger tongue

the needle of a scale for weighing
ᴜsᴀɢᴇ; ᴏʀɪɢɪɴ:
when the ᴅɪʟᴀ                                                  dila
fractured upon                                                                                                híla
the shore
did it find new                                                                     dilaʔ
meaning
                                                                                                                                             jelap
                                                                                                             hulaʔ
                                                                                                                                     shila
                                                                                                   dila
                                                                                                                          lela
                                                                                                      lera
                                                                                                                                          dila
                                                                                      rilam
                                                                                                            dèlah
what meanings loosened
from drifting continents                                                                              lila
what hesitant
breakage                                                            dila
inflections           become ancient                                           lera
Best viewed on desktop.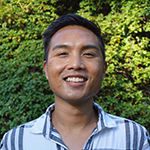 Aldric Ulep is an Ilokano American writer from Hawai'i whose poems have appeared in Bamboo Ridge, Beloit Poetry Journal, Tinfish Journal, and Zócalo Public Square. His work was nominated for the Best New Poets 2022 anthology and earned an honorable mention in Southern Collective Experience's 2021 Asian American Poetry Chapbook contest judged by Lee Herrick. He received his MFA from the Rainier Writing Workshop.