Slutty Prayers
God is a woman
and she bends into a perfect arch,
her fleshy altar nestled between sturdy-soft thighs.
My tongue finds worship,
spewing incantations of reverence.
This woman breathes life
into my being. Her body,
a pilgrimage.
I long to journey into her depths.
She draws her breath across my body
mapping out new cities, imprinting her soul
on mine, whispering love
into my skin.
She tells me "Open Sesame,"
and my legs part
like the Red Sea leading Israel to promise.
Her fingers drip honey as they find their place in me.
Here, our desire sings.
We make righteous sex,
baptizing ourselves in holy flame.
We burn and burn until left basking
in our true form, drinking in the sight
of each other, our eyes leaking love.
Here, we holy.
Here, we sex.
Woman, loving woman.
Clit to clit.
Breast to breast.
There is no abomination here. Only grace.
bisexual anxiety
On the days a man's mouth
takes me to the heavens,
I question my sexuality.
I have had more male lovers than female. My best friend tells me that I could not love a man and a woman equally.
A man I loved yesterday told me I could not
be gay if I moaned his name in pleasure. I tell him to take his homophobia off my body.
On the days I imagine crafting a life with a man, guilt nibbles my mind.
Am I less queer for finding love in the arms of a man even though I also want to walk down the aisle with a woman?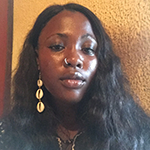 Olúwatamílọ́re Ọ̀shọ́, Frontier XVII, is a writer, poet and creative director from Lagos, Nigeria. Her writings negotiate sensuality, familial dynamics and identity. Her works have been published/forthcoming in online literary mags namely The Roadrunner Review, Olney Magazine, ANMLY and elsewhere.
&nbsp