Weather for Two
To love is to undress our names
—Octavio Paz
Lover, tonight I baptize you with my mouth.
Trace the velvet & sandpaper of your skin
with my lips. Dip into the honeyed bouquet
of you. Fill myself with your every flavor.
Touch you until your sins & your ghosts
have nowhere left to haunt. Tonight,
let me relearn your wounds. Put on
soft music. Light candles. All your hauntings
know how to undress your sadness. But
when I undress you, I fill myself
with a bountiful harvest. Here, we make
our own Wet Season.
I too know the wild ache of want. I stand
in awe of such a blessing. Knowing fire
comes from the root stem of 'yes'
'again' 'please' 'more,' my thighs
these hands, are sugar to salvation.
I am greedy heaven, hungry
to make you a shivering night. Sing:
god of gripped sheets, of the curious tongue.
How you learn to twist & pull,
loosen & partition me.
How I have taught your hands to build me
into a nation of hungry mouths,
to make me speak in tongues
until I am a pool of myself.
To be possessed by the wet gallop
of flesh thrumming your labor.
Even after we come apart,
there's a way in which you open
me & I stay that way.
Originally published in Spells of My Name
How to Spell Infinity
The sun—red and singular with longing. Outside, cold once gathered the dream of snow.
Now it's spring. Who I once was is gone, one self out of another. Season into season.
The fields return to green. Let me be brave like the wildflowers who challenge
the completion of death. Your human problems are irrelevant to me, says the wildflower,
My job is to populate the fields with beauty. To die back to the earth then return. It's true:
I survived my father and now I am endless—the bullet sung back into the barrel,
the arrow unsung, the brute hand at last out of reach. In this land, there was no sleep,
just longing with my eyes closed. Now, I can kneel my body back to the soil.
I'm opening the blinds. I'm setting the table, taking out the good silverware.
I'm preparing a great banquet to celebrate with everyone I love. It was no one's birthday
yet we sing anyways. Pass me the rice and stew; I haven't eaten this good in so long.
I've come to understand a person's wounds by the joy they resist. I say of my selves:
I was whole before my father made me. The peace that comes not from his absence but
despite his echo through the forest. Light filling my cup. As if by miracle there are new days ahead
and I am on my way to be kissed by them. Field of Tenderness, open.
The world made gentle beneath my hooves. I am made infinite by love
and such love makes my hair grow long. A sweetness only the body could make.
When I was a child, I planted heads in the garden in hopes of growing better fathers.
I mixed up percussion and concussive, but both are music. I say of myself: I am worthy
of every gallop towards salvation. I toast with my selves, and sunlight goes down glowing.
Believing his harm spellbound my legs, I ran and ran until the earth fathers me a song.
I look up and can hear it. I didn't know the hummingbirds knew my name.
Originally published in Spells of My Name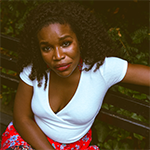 I.S. Jones is an American / Nigerian poet and essayist. She has received support in the form of fellowships, retreats, and residencies from Hedgebrook, Callaloo and Brooklyn Poets. Her works have appeared or are forthcoming in Guernica, LA Review of Books, The Rumpus, Prairie Schooner, and elsewhere. For the last three years, she served as the Director of the Watershed Reading Series with Art + Literature Laboratory. She is currently an instructor with Brooklyn Poets. Her chapbook Spells of Name was selected by Newfound for their Emerging Poets Series. She is at work on her debut full-length collection of poems.
&nbsp