Portraits
to my mother
I was born before this time… Before myself.
Look at how my words twirl around and around in you. How I steal them
from you.
Mother… Can you see through the magic behind this?
How it all leaps and beats dripping in silence the blood of this
motor the life vein of a heart that is perhaps impossible to find.
Yes you know that sometimes I don't have eyes for certain
things, I am uncertain, I create myself from eagles and transcend my body
in their eyes, all because the few times that I have transformed
I find myself more and more in you.
And it doesn't matter. Nothing matters.
Not what you can see, nor what you cannot.
Look… see how similar we both are and different, too.
See how deeply we stare into each other's hearts as
we carry them like packages weighing us down even as
they cure the links between the eternal world we hold inside.
Mom, is it true one day we'll leave ourselves?
RETRATOS
à minha mãe
Nasci antes deste tempo…Antes de mim.
Olha como esta minha grafia circunda e circula em ti…Como te a
roubo.
Mãe…Vê em magia como isto se sucede?
Como isto pula e pulsa gotejando em silêncio o sangue deste
motor a veia da vida de um coração talvez impossível de descobrir.
E tu sabes que eu às vezes olhos não tenho para alcançar certas
coisas, coisas certas e invento-me em águias transcendo-me
em seus olhos, tudo porque nessas poucas vezes em que me transfiguro
descubro-me mais em ti.
E não me importa nada. Nada me importa.
Nem o que se vê e nem o que se não pode ver.
Olha… vê como parecidas somos e diferentes também.
Olha como a fundo nos olhamos nestes corações alheios que
carregamos como trouxas e que nos pesam mas no mesmo
instante nos curam das eternas mundanas que temos dentro.
Mãe, será que algum dia iremos partir de nós?
Translator's Note:
As in much of her poetry, genre-defying author Hirondina Joshua uses "Portraits" to examine origins, in this case, of both self and the language used to express it. The narrator, addressing their mother, finds the source of all things in reflections, that is, reflected back at them by others. The narrator is formed in the eyes of eagles that they have themselves created. They claim to exist before birth, within the mother who will come to produce and shape them. The other's heart, even as it may weigh us down, is as much a part of us as the "world[s]" we hold inside. In the poem-world of "Portraits," the boundary between creation and being is blurred.
Words, too, bounce back and forth between interlocutors. Much like the narrator, language itself depends on duality. There is no language without speaker and listener, without someone to produce the code and another to understand it. The narrator claims to steal a sort of language from their mother, finding that their idiolect draws more and more from hers. They are linked by their common language, and the poem's very medium, and thus, the poem itself, becomes caught up in this self-referential cycle of dependent existence. In the world Joshua interpolates, in which mother and child are inseparably entwined, individual identity is put under interrogation, namely, what is me and nobody else?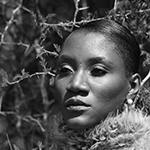 Hirondina Joshua was born in Maputo, Mozambique in 1987. She is the author of several books of poetry and writing, including Os Ângulos da Casa (2016), with a preface by author Mia Couto, Como um Levita à Sombra dos Altares (2021), and Córtex (2021). She has appeared in a variety of anthologies of Lusophone poetry and appeared in literary festivals in Macau, Portugal, and Spain.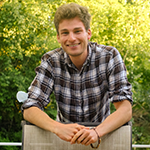 Grant Schutzman is a poet and translator. He is fascinated by multilingual writing and that which has been deemed the untranslatable. He received a commendation from the 2022 Stephen Spender Poetry Translation Prize, and his poetry and translations appear or are forthcoming in Rust + Moth, The Shore, The Inflectionist Review, Modern Poetry in Translation, Asymptote, and Bennington Review.
&nbsp