Tonight, I might commit the most grievous crime
(with a line from J.K Anowe)
he comes home tonight // with a bottle of Campari // a ripe disaster // nothing is better than a tavern // sprouting in the // mouth of a sot. // which is to say, father bellies an // alcove of all world's booze. // once he thrashed mother // & she almost blanked out. // approach & dissect my grief & perform autopsies // —see how much damage it has done to my heart // like a rust // chewing on the body of a metal. // & again, my mother is a poem tonight // where the stanzas // become slurred by the cruel cadences of pummelling // & God! i am the sad little audience to enjoy this frenzied fracas. // call me a marigold // wilting from the sprinkling of angst // that gushes out every night from // the eyeballs of my mother. // at the exit of laughter // what else does a body perform // if not that it metaphors itself a riot against the soul? // which is to say this body balks over bliss // like a child deserting a musty doll // i want to break the foot of every shadow of him in this // room, blemish every inch of him with bruise // & let all the knives in the kitchen i hoist on his body witness his annihilation // the same way a bushfire watch // a butterfly // reduce to ashes. // & my voice lacks remorse // like a snake depositing venom in a farmer's leg.
Maybe, We Can Dance Once Again
after all the threnodies // these voices once twanged. // what spilled on the asphalt // last night? // the crimson of another boy // whose dreadlocks & Dior spectacles // threw a striking resemblance, // a reflection of cybercrime. // & often i am eclipsed in wonder // how somebody's sartorial elegance // could be mistaken for iniquity // & bullets are always in anxiety // for the miracle of body baptism. // in the atrium of my heart // i found two tender songbirds // chirping unsung melodies // & before the night spilled over the roof // a curlicue of funereal crows stuffed with elegies // displaced their bodies. // who else dies again today—a boy, a grief-stricken child at the breasts of its war- ridden mother, the joy of a girl // limping home to brim her father's soul // with a tale of rape. // a nightmare invaded my sleep // i saw my country morph into a wounded wolf // every howl of her for help // disembarked with a note of naught // until she whittled into oblivion. // here i offer // a spotless lamb // a dove // burnt incense // 12 sujuds // O Lord, take these as a sacrifice.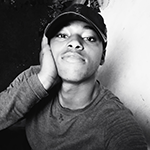 Eniola Abdulroqeeb Arówólò is a Nigerian writer and a member of the Frontiers Collective. A Pushcart nominee, his works have appeared—or are forthcoming—in 4faced Liar, Fourth River Review, Rulerless, Perhappened, Lumiere Review, Temz Review, ANMLY, Tint Journal, Ake Review, Sunlight Press, Kissing Dynamite, Brittle Paper, Ice Floe Press, Afritondo, Better than Starbucks, and elsewhere. Currently, James Baldwin is his most-cherished essayist. Say hi to him on Twitter @eniola_abdulroq.
&nbsp