How to Go to God and Remain There
I am terrified at the moral apathy, the death of the heart, which is happening in my country. These people have deluded themselves for so long. They really don't think I am human. I base this on their conduct, not on what they say. And this means that they have become, in themselves, moral monsters. —James Baldwin.
And this day is not such a different one, except for the heightened rage of the sun; except for the strangers in the street circling a body like vultures; except for their voices trying to name this body before knowing it, before killing it; this body; a kneeling boy, wearing the face of one who loves boys, who knows how to love boys; and these people know this face; they must peel it; must undo; how else to erase the error in a book; a tyre for his neck; a stone for his head; a fire to smoke him straight to God; an offering to purify, to cleanse, to take God's hands and do His work; except they don't become God; but monsters, intentional about sin; and they watch the boy burn; the boy, who searches their faces for what he has deprived these strangers of; their air? their happiness? their milk?; the boy who, in the hell, is eager to go to God and remain there; and does; in a rising of grey smoke; and no one knows his name.
From my window, the whole madness is a movie scene; except I am an actor; and the burning boy a looming foreshadow; except I have a name, yet.
Originally published in Isele Magazine.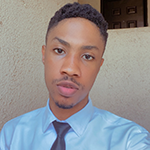 Bryan Okwesili is a Nigerian poet and storyteller. His works explore the interiority and tensions of queerness in a heteronormative culture in which he imagines a world of inclusivity. He is a two-time Pushcart Prize nominee and a finalist for the Tupelo Quarterly Open Fiction Prize. His works appear in CRAFT, SLICE, SmokeLong Quarterly, Isele Magazine, Foglifter, Tupelo Quarterly, QWERTY, Brittle Paper, PANK, Litro Uk, and elsewhere. He is currently a student of law at the University of Calabar, Cross River State, Nigeria. You can connect with him on twitter @meet_bryan_.
&nbsp