Oil and Water
We'll knock your teeth
out, bury you
in a wooden casket.
You can't be queer
and Moslem. No,
you can't be.
You shouldn't be.
We love you, Habibi,
but not tonight. Wait,
you shouldn't sway
that way.
We'll cut off your hands, and
hand them over to you.
Open your mouth—
let's pull the blackness out
of your tongue. Let's gouge
your eyes out and help you
wash them clean.
Listen, Habibi,
this is the only way.
Hold your head still
underwater; let the Lord
do His will. Thirty lashes
on your back, twenty
on your palms. Let us
draw out the darkness
inside of you. Let us stone
the back of your head.
This is the only way.
We love you, Habibi,
just not tonight.
Close your eyes, let the water
wash over you. Please,
just close your eyes,
and let it happen.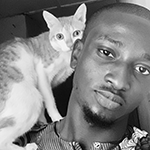 Animashaun Ameen is a poet and essayist. His works have appeared/are forthcoming in Salamander Mag, Third Estate Mag, Roadrunner Review, Vast Chasm, and elsewhere, and he is the author of Calling a Spade. He lives and writes from Lagos, Nigeria. An oddball. A butterfly. He tweets @AmeenAnimashaun.
&nbsp