Mourning Meditations
after Cameron Awkward-Rich
I wake up to the rubble & ruin of broken hearts, another day of pandemic & aftermath – my gut sinks. I stay inside my bed a little longer & check my phone – my gut sinks. I lift up my comforter, lift up my morning body, walk to the bathroom & sit on the toilet – my guts sink. I contemplate my rebellious body, my only religion. My gut sinks. I gaze longingly out the window – I see a fence. There is a dream I have in which every cage melts. I gather carbon dioxide in the air like it is pollen or nectar & I am a hummingbird or a bee & I feed it back to the Earth. There are no borders, just flora. I sigh & swat the stupid toilet paper roll. Hand on my stupid guts. Hand on my shit-lipped hole.
"Mourning Meditations" is written after Cameron Awkward-Rich's poem "Meditations in an Emergency", itself an "after poem" written after Frank O'Hara.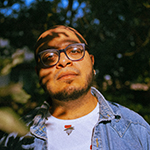 Aerik Francis is a Queer Black & Latinx poet and teaching artist based in Denver, Colorado, USA. They are the author of BODYELECTRONIC, their debut poetry chapbook now out with Trouble Department press. They have poetry published widely, links of which may be found at linktr.ee/Aerik or via their website phaentompoet.com.
&nbsp