Cyborg attending mermaid festival without inserting a breathing language
yes, my bones raced
the ocean tides to a mermaid
festival. yes, i activated
the swimming tools;
sniffing autocorrected
to sinking.
instruction: shutdown
to deactivate lungs.
then, wake up to gills
under your ribs.
prosthetist, you inserted
suffocating button
instead of surfing.
scientist, i crashed
when the ocean hosted
a bloodbath. the truth is:
my eyes water the sky
whenever i restart.
it's the third night
the moon is drowning
in my mouth.
& you're floating in your bones.
gravity hasn't found you yet.
beloved bion, you need
help to shut down.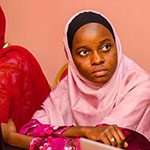 Zaynab Bobi, Frontier I, is a Nigerian poet, digital artist and photographer from Bobi. She is a member of Hilltop Creative Art Abuja, and a Medical Laboratory Science student of Usmanu Danfodiyo University Sokoto. Her poems are published and forthcoming in Kalahari Review, Isele Review, Asterlit, Paddler Press, Olney Magazine, Ice Floe Press, Lunaris Review, Rigorous Magazine, Olit Magazine, TST Review, and elsewhere. She tweets @ZainabBobi.
&nbsp