HEALING CEREMONY
Translated from Filipino
This cold stone weighing like a dog
howls in our hearts
in a number of life cycles.
Walked throughout the afternoon
and through a million years,
bound tight on a leash,
brought in every journey.
But just like a dog, this weight
can also be a friend—
walking and soothing it
until the muttering stops
and the mad woofing lulls,
turning into simple tenderness.
By mastering the weight, this stone warms up,
something integral to internal healing.
Just like how heated stones are used
by the Chinese, the Indians, and the Egyptians
in their respective Healing Ceremonies
to melt cold-hardened muscles.
This is also how we heal the self:
From the cold stone that weighs like a dog
to a heart that is warm and light.
Only in trusting the process
of returning to the Origin
and accepting the Truth,
can the choleric dog break free
in boundlessness.
AMIANAN MARCH
Translated from Filipino
At the end of this trip
the roads will connect,
all paths will meet,
traversed by natives,
workers, and farmers
of this land.

The gravel paved into concrete
by capitalists will melt
in the intensity of the people's march
sounding like rain.
The cement will liquefy
to tears, but of no-tears,
until it reverts back
to being earth again.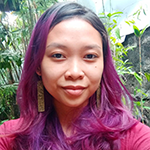 J. G. Dimaranan finished her B.A. in Language and Literature at the University of the Philippines Baguio in 2015 and graduated from Philippine High School for the Arts in 2009. She is the co-editor of the anthology Danas: Mga Pag-aakda ng Babae Ngayon (2017) and the author of the poetry collection IO (2020), both from Gantala Press. She recently released the children's books Sayaw ng Pantaron (2021) and Ang Makapangyarihang Tungkod ni Lolo Jose (2022) with Southern Voices Printing Press. She lives at the foot of Mt. Banahaw with her partner and three kids.
Tilde Acuña (Arbeen Acuña), author of Oroboro at Iba Pang Abiso [Oroboro and other Notices] (University of the Philippines [UP] Press, 2020), teaches at the Department of Filipino and Philippine Literature – UP. His works of translation appeared in Pingkian: Journal for Emancipatory and Anti-Imperialist Education, and books published by Gaudy Boy, UP Press, Ateneo De Manila University Press, and Sentro ng Wikang Filipino. He co-edited Destination: SEA 2050 A.D. (Penguin Random House SEA, forthcoming 2022) and translated its komiks entries.
&nbsp