SUDDENLY
Translated from Waray
The drought has come
and clouds drift
like cotton.

Where are they heading

and why do cicadas suddenly
whirr like Iday's cry?

Where are you going?

Time,
raucous,
is in a hurry.

Skies grew dark
and, languidly
pelting on the roof,
heavy drops
of rain,
drip from the ceiling,
and in pans, rain
no one could have forestalled.

When the rain stopped,
we mopped the floor
hung the curtains back
and locked
the door.

Time,
raucuous,
is in a hurry,
distant.

Church bells toll
oratio imperata.

Sign of the cross.

Relief came delayed.
Ants came before
we even tasted the sardines.
The 3-in-1 coffee kapitan gave
has now cooled, awaiting
the rooster's crow.

In your hurry,
your longing
dented
your face,

your hair brushed back
overly made,
dressed in your trousers,
and your favorite Ambel
shirt embroidered
with comely flowers.

Everything is ready,
we're about to leave.

We rushed
to the street.
You are unknown here
except by rumors
and the snide gaze.

I could see Rawis from afar
as its shore
brims in your lips.
We wash ourselves and heal
upon returning,
holding your tear-streaked
baris* of clothes.
---
* A woven trunk made of rattan used for storing clothes
CARESS
Translated from Waray
I map out your features
as if running my fingers through a smooth blanket.
Never have I beheld the shape of your face
save the warmth coursing
through my palm
telling me of your beauty.
Nor have I seen the red
of your lips,
feeling them as though it were cotton.
Nor the flow and silk
of your hair
slippery as a scrubbed floor.
I trace in the air shape
of your face, hoping
to remember each angle,
my heart leaps
sensing your pulse
and my heartbeat.
We had no words
except the sound of our breathing
we closely listen to
at every touch, skin
of my palms
slowly burn,
my hands, that of the recluse
and prisoner of the dark.
I would have wanted to keep you
and stop time
from running,
unfinishing the rare
meetings of moon and sun,
afraid that love
would not find its way
in its path towards you.
I may climb a wall
and cry for help,
but none will hear me
save these hands—
true knowers.
And
very
slowly
bound my hands
to free you
find the origins
of fire:
remains of memory,
light of dark things.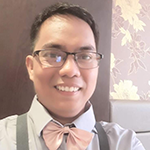 Sunray Balasbas is an artist from Calbayog City, Samar. He paints and writes siday (poetry) in both traditional and contemporary forms. He currently teaches at the Calbayog City National High School, where he also serves as visual arts specialist. He is proud to be a scholar of Lamiraw, an organization of writers based in Calbayog.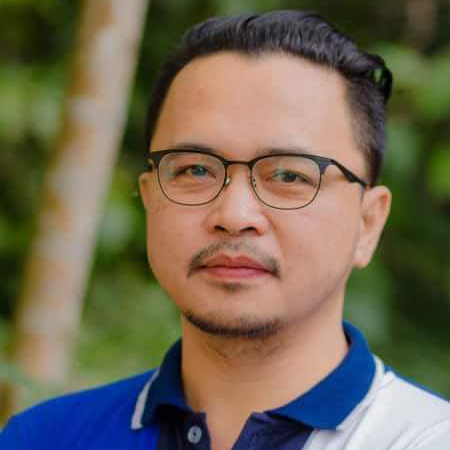 Michael Carlo C. Villas teaches language and literature at the Department of Liberal Arts and Behavioral Sciences, Visayas State University. He has published in journals and anthologies notably, Our Memory of Water: Words After Haiyan (Ateneo de Naga University Press, 2016), Sustaining the Archipelago: Anthology of Philippine Ecopoetry (University of Santo Tomas Publishing House, 2017), and Reading the Regions: Teaching Philippine Literature from Multi-Perspectives (National Commission for Culture and the Arts, 2019). He co-edited the forthcoming anthology, Garab: Hinugpong hin mga Susumaton ha Waray (Garab: Anthology of Short Stories in Waray, Balangiga Press).
&nbsp