EARTH IS THICKER THAN BLOOD
Translated from Waray
With your knowledge, you will part the lands
your parents and ancestors left you.
Here is where you will drive into the ground
the fence of your principles—your side, their side.
For everything to fit squarely,
every obstruction shall be felled
including the mango tree
where you once carved your names.
Each of you will build a palace
in its place. But secure your foundation
or canopies of trees will encroach
on land not yours. For land titles
will be spread out like a mat.
And laws will cover your eyes
until you are blind to each other's faces
so that even the mind will fear
remembrance of things past—
times when you were carefree,
running freely on open grounds.
Tracts of land are why you made it up
in life. So that even in your last breath,
you held onto your titles, having forgotten
that the earth you so treasured
is the same earth that is your grave.
Meanwhile, as your blood thins,
you wait for who will be buried
next under the earth
that none of you will ever claim.
LDR*
Translated from Waray
I still watch the dusk like we used to.
For us both, light of sundown is a blessing,
glimmering on the seas. At ebb tide,
I would write with my finger
your name on the sand. And at spring tide,
waves murmur the name it washes away,
name I traced with my finger, hoping
you would video-call, call, or message.
But waves have the habit of crashing, thrashing
to rocks this longing only to be grown
over with moss. Forgotten.
Now, my eyes grow heavy from salt
in the wind. Against the glare,
my eyes long for the cool shade of your face.
Perhaps this is why I allow the night to keep me
company—the cold, dark embrace
of sea and moon: No one knows when
the two will meet again, but their vows remain,
be it low or high water. True, we measure
our waiting with full moons.
And though the sun will never rise,
I will write your name on the sand
over and over
until
even
the foam
is
beyond
its reach
to erase
made obsolete.
---
*Acronym for long-distance relationship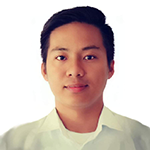 Reynel M. Ignacio is a member of Katig Writers Network, Inc. He was a writing fellow for poetry at the Lamiraw Creative Writing Workshop (2008), UP VisWrite Workshop (2012), and Iligan National Writers Workshop (2017). For his poetry, he received the Jimmy Y. Balacuit Award, Chito Roño Literary Award, and Gawad Komisyon sa Wikang Filipino.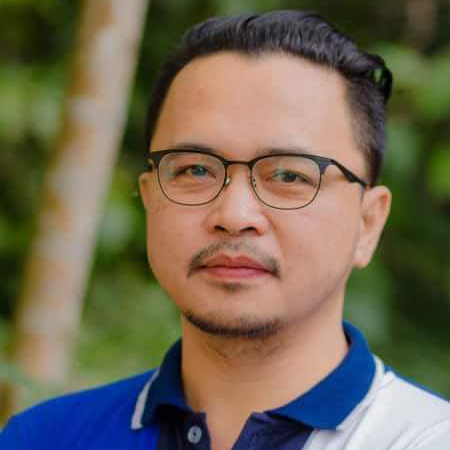 Michael Carlo C. Villas teaches language and literature at the Department of Liberal Arts and Behavioral Sciences, Visayas State University. He has published in journals and anthologies, notably Our Memory of Water: Words After Haiyan (Ateneo de Naga University Press, 2016), Sustaining the Archipelago: Anthology of Philippine Ecopoetry (University of Santo Tomas Publishing House, 2017), and Reading the Regions: Teaching Philippine Literature from Multi-Perspectives (National Commission for Culture and the Arts, 2019). He co-edited the forthcoming anthology, Garab: Hinugpong hin mga Susumaton ha Waray (Garab: Anthology of Short Stories in Waray, Balangiga Press).
&nbsp