BAD GUYS IN FPJ'S* MOVIES
Translated from Waray
Sometimes they'd sport a barong.*
Oftentimes, mustachioed. Very rarely, with none.
He stands for the opulent and corrupt life.
Brazen like lightning and thunder in the skies.
Macho-shit.
Disrespectful to women.
Chews and spits invectives like betel.
Wields power over the military and police.
Kills those he spites.
Praised by liars and thieves.
The oppressed and the poor beg for his mercy.
Yet his power has an end.
Da-King* finishes him off to the edges of the screen.
---
*Fernando Poe, Jr., famous Filipino action star
*Traditional Filipino shirt for men usually made of pineapple fiber
*Poe's title, a Filipinized form of the English, "The King"
SONG OF SMALL-EYED SIRENS

To Imelda P.* and many others who were befriended by those who are not like us*
Translated from Waray
In the deep seas, says my grandfather,
where you spread out your sails
to speed your voyage on water,
those who are unlike us work their charms.

"Many sailors have brought stories
about sirens with small eyes,
stories of those who have gone before us
and those who have never found their way home."

Old folks would speak of times they spent
in the deep, in poetry, even, on a full moon
and drunk, utter poems about strange songs
captivating, leading ships to their doom.

"Close your eyes. Cover your ears.
Before the sea's sadness swallows you.
Many ships have not made it back to port,
most of them buried in the depths of the blue sea."

Their songs allure like golden promises
you will desire your entire life.
Once spellbound, you will merely
be remembered in the poetry of the folk.

"Neither be seduced by their songs—they are not for you—
nor be awed by the lure of their voices. If, perchance,
you meet them at sea, cover your ears,
think deeply, forget yourself not."
---
* Imelda P. refers to Imelda Papin, known as "the duke box queen of the Philippines," who came out in a controversial music video justifying China's encroachment of the West Philippine Sea.
*Transliteration of "diri sugad ha aton," a phrase referring to enchanted, otherworldly beings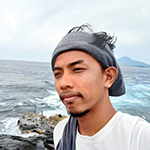 Amado Arjay B. Babon is a member of the Katig Writers Network, Inc. He is an alumnus of the Lamiraw Creative Writing Workshop and Iligan National Writers Workshop. He writes poetry, plays, and fiction in Waray. He also acts in and directs plays. He is currently taking Masters of ASEAN Studies at the University of the Philippines-Open University.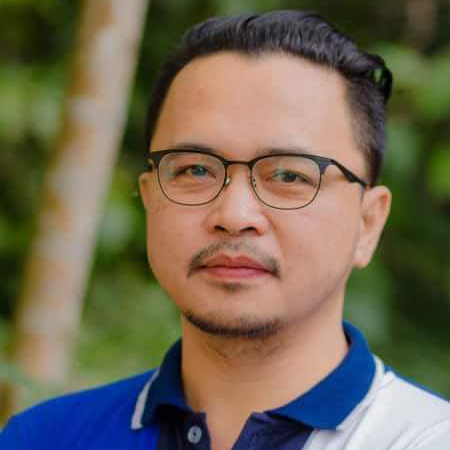 Michael Carlo C. Villas teaches language and literature at the Department of Liberal Arts and Behavioral Sciences, Visayas State University. He has published in journals and anthologies, notably, Our Memory of Water: Words After Haiyan (Ateneo de Naga University Press, 2016), Sustaining the Archipelago: Anthology of Philippine Ecopoetry (University of Santo Tomas Publishing House, 2017), and Reading the Regions: Teaching Philippine Literature from Multi-Perspectives (National Commission for Culture and the Arts, 2019). He co-edited the forthcoming anthology, Garab: Hinugpong hin mga Susumaton ha Waray (Garab: Anthology of Short Stories in Waray, Balangiga Press).
&nbsp