EVEN IN THE ROOM
Translated from Filipino
the sea is unperturbed when you got there. No waves are stroking the stinging nettles that line that space. there's only rustling in the mangroves, mingling with the gasping air. you are in my room. watch the branches float on water. the gradual closing of the door of my mouth. watch as you get kissed by a valley on the other island. the floor of my palm that lightly touches the navel of the night. the window that brings back your previous day. are you ready to shed light on the name you wrote on the sand? savor the brine using your sense of sight. restraint swims in your eyes as you dissolve the sand where the water gets murky. tell me this is not my room. this is our room. we are in our room. and this is all it takes to create waves everywhere.
BREAKWATER
Translated from Filipino
One night at the beach
You tried to pick up the stone you had cast and allowed
Your hands to lick the sand.
You parted the grains like you would the curtains every morning.
You parted them without knowing why.
But even then you proceeded to part them anyway
Both the sticking around and going away.
You were half in, half out with your indecision.

When your callused hand failed to navigate by touch,
You resisted the urge to swallow whatever's blocking your throat.

It was just me now,
Tonight,
At the beach.
The stone calmly let itself be carried away
Along with your breath.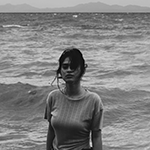 Vanessa Anne Joice T. Haro, aside from writing poetry, specializes in implementing and leading gender-inclusive and trauma-informed projects and programs in state universities and private companies for years now. Some of her poems were published in Lagda, UBOD, and Loch Raven Review. She was a fellow for poetry in the following national workshops: Palihang Rogelio Sicat (University of the Philippines, 2015); University of Santo Tomas National Writers Workshop (University of Santo Tomas, 2019); and Iligan National Writers Workshop (Mindanao State University, 2018). Haro is also a member of Gabriela Women's Party, a collective working towards emancipating injustices.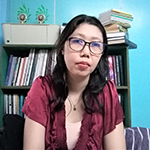 Kristine Ong Muslim is the author of nine books of fiction and poetry, including The Drone Outside (Eibonvale Press, 2017), Black Arcadia (University of the Philippines Press, 2017), Meditations of a Beast (Cornerstone Press, 2016), Butterfly Dream (Snuggly Books, 2016), Age of Blight (Unnamed Press, 2016), and Lifeboat (University of Santo Tomas Publishing House, 2015). She co-edited the British Fantasy Award-winning anthology People of Colo(u)r Destroy Science Fiction! (2016), Ulirát: Best Contemporary Stories in Translation from the Philippines (Gaudy Boy, 2021), and several forthcoming anthologies. She is also the translator of numerous books by Filipino authors Mesándel Virtusio Arguelles, Marlon Hacla, and Rogelio Braga. Widely anthologized, Muslim's short stories were published in Conjunctions, Literary Hub, and World Literature Today, and translated into six languages. She grew up and continues to live in a rural town in southern Philippines.
&nbsp