FROM A FAT WOMAN
Translated from Cebuano
I walked along Cogon
(where god forbid up until now
had no proper pedestrian lane)
and someone hissed at me.

I did not mind them
but it hit a nerve when he said

"Hey, fatso, how come you're sexy?"

I was wearing—a bodyfit dress.
I knew my figure was on the heavy side.
I'm just tired of sucking it in.

But I had nothing to say.
I was caught off-guard.

Litsi.

In his eyes,
my hips were too broad.
In his eyes,
my arms were flabby and graceless.
In his eyes,
my breasts were up for grabs.
In his eyes, I'm a meal.
Nevermind being greasy.

I am so tired of watching myself
through other people's eyes.

So what if I am fat?

Isn't there more of me to love?
THE EVACUATION
Translated from Cebuano
Look at the wall.
The drawings you made
as a child that had long ago been erased
snatched away in a flash by the storm
without any of us knowing.
Our shoes and slippers,
vinyl records and cassettes,
aluminum pots and the stove,
all swept away into god knows where.

We now need
to wrap the drinking glasses in newspaper
and fold the remaining clothes
before placing them in cardboard boxes.
Let go of the memories
that shake up our evacuation plans.
This is only temporary. Just stick this out
since, in any case, whenever we grow restless,
there will still be home for you with me.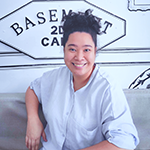 Mai Santillan is a spoken word artist, poet, and playwright born and raised in Cagayan de Oro City. She was a fellow at the Sterelogues Playwriting Workshop in 2012, the Sulat-Dula Mindanao Playwriting Workshop in 2013, and the Davao Writers Workshop in 2014. Her writings have appeared in the Dagmay Literary Journal, the Kabisdak Cebuano Literary Lighthouse, the Manila Bulletin's Bisaya Magasin, and the Carayan Journal. In 2018, Bulawan Books published her chapbook, Gikan sa Babayeng Bilbilon: Mga Balak. Tinubdan: New Voices from Northern Mindanao also includes a selection of her works.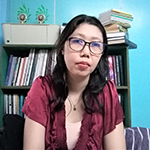 Kristine Ong Muslim is the author of nine books of fiction and poetry, including The Drone Outside (Eibonvale Press, 2017), Black Arcadia (University of the Philippines Press, 2017), Meditations of a Beast (Cornerstone Press, 2016), Butterfly Dream (Snuggly Books, 2016), Age of Blight (Unnamed Press, 2016), and Lifeboat (University of Santo Tomas Publishing House, 2015). She co-edited the British Fantasy Award-winning anthology People of Colo(u)r Destroy Science Fiction! (2016), Ulirát: Best Contemporary Stories in Translation from the Philippines (Gaudy Boy, 2021), and several forthcoming anthologies. She is also the translator of numerous books by Filipino authors Mesándel Virtusio Arguelles, Marlon Hacla, and Rogelio Braga. Widely anthologized, Muslim's short stories were published in Conjunctions, Literary Hub, and World Literature Today, and translated into six languages. She grew up and continues to live in a rural town in southern Philippines.
&nbsp