GENERAL SANTOS CITY IS PART FIRE
Translated from Filipino
part fishermen, traders, workers, and children
inhaling
the pungent fish smell and open air of the wet market
facing the sea and Purok Islam.
How many times were people forcibly driven away
by the nearby military encampment? How many times
were their homes razed down?
According to the news, no one
was killed in the former, while a five-year-old died
from the latter. What always follows: the homeless
are rounded up and made to meet visiting
politicians, so they can pose
for photos and receive promises
of relocation, which is usually in faraway places.
One of the people who lost his home in a fire
talks of the certainty of homecoming—
how the gills tend to hone in to the salt of the sea
and the nose
the pungent fish smell and open air
of the village in front of the wet market.
ZERO
Translated from Filipino
When you reach ground zero, the fog is already spreading over the masjid's crescent moon. The place has been empty for months. You are looking for the most vivid picture of destruction. You know this view is unlike anything you have seen. Soldiers keep instructing people to walk farther past the masjid but never stray beyond the roadblock. As you take snapshots, you tremble in the cold. Then it rains. Zero visibility. Scrambling away from ground zero, you fail to see the empty mansions next to the refugee tents. The unending line of posters of politicians running for the next election. The slumped refrigerator door, swathed in fog but not shivering in the cold.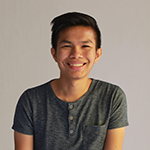 M.J. Cagumbay Tumamac is a writer and reading advocate from southern Mindanao, Philippines.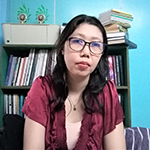 Kristine Ong Muslim is the author of nine books of fiction and poetry, including The Drone Outside (Eibonvale Press, 2017), Black Arcadia (University of the Philippines Press, 2017), Meditations of a Beast (Cornerstone Press, 2016), Butterfly Dream (Snuggly Books, 2016), Age of Blight (Unnamed Press, 2016), and Lifeboat (University of Santo Tomas Publishing House, 2015). She co-edited the British Fantasy Award-winning anthology People of Colo(u)r Destroy Science Fiction! (2016), Ulirát: Best Contemporary Stories in Translation from the Philippines (Gaudy Boy, 2021), and several forthcoming anthologies. She is also the translator of numerous books by Filipino authors Mesándel Virtusio Arguelles, Marlon Hacla, and Rogelio Braga. Widely anthologized, Muslim's short stories were published in Conjunctions, Literary Hub, and World Literature Today, and translated into six languages. She grew up and continues to live in a rural town in southern Philippines. 
&nbsp