SOMNIPHOBIA
Translated from Cebuano
I hold firmly the books I've bought from Booksale while riding a jeep on the way back to the apartment where my mother and I are staying. The vehicles along the length of Mango Avenue move in a sluggish pace. The passengers quietly listen to the sound of heavy rain and the jeep's rumbling engine. Most of them have dozed off to its lullaby. I peer outside and see the road wrapped as if in a cape of anguish. The rain shows no sign of letting up, and it has put the world to sleep.
The passing moments are spent watching the closing and opening of the passengers' eyes. I ask myself how many dreams have died at the waking of their eyes, and how many came to life each time they shut them again.
Is closing one's eyes also a form of opening?
A young man, perhaps my age, is the only other passenger left awake inside the jeep. He's in front of me. His eyes are on me. I'm not so sure. Maybe he's looking at the older man distinguished by his tattoos. Perhaps, he's staring at the woman carrying her white cat. As the jeep we're on drive off, our eyes meet. Five or six times maybe. I'm not able to count.
When he holds out his fare, his fingers are like fireflies taking shelter in my palm. "Salamat," he adds and the fireflies flit away from my hand. This, my palm, he could very well live in it. "Lugar lang," he says then clinks a peso coin on the metal railing. He wakes those who are sleeping, along with the feeling I want to put to rest for eternity.
Our eyes meet, for the last time, and he allows himself to be swallowed by the rain.
Dawn. What I always see in my room: three cups of coffee—two emptied and one half full, until it grew cold—on the table. "You're not going to sleep yet?" Nanay says when she sees me still awake at dawn. "You have class later." For seven months, I've tried not to sleep. I read novels, check if I have messages on my phone, drink coffee, write a poem then crumpling it after, do homework, meditate and jerk off (or meditate while jerking off).
I look out at the world outside. It's still raining. The first of the year. At the trickling of rainwater on the closed windows, the young man inside the jeep still hasn't left my mind. I should have looked at his ID so I would have known his name and added him on Facebook.
I get up and watch the shadows of people tramping in the rain and embraced by the despondent glow of streetlamps, and coldness. But the lights from the tall buildings rage as if at the darkness of the world. My eyes also want to surrender to sleep. However, isn't sleep another way of wasting life?
How could we allow ourselves in this vast universe to sleep without being loved?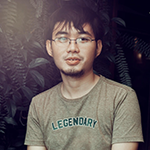 R. Joseph Dazo is the author of Ubang Gabii sa Mango Avenue (Kasingkasing Press, 2019), and co-editor of an anthology of queer literature in Binisaya, Libulan Binisayang Antolohiya sa Katitikang Queer (Cratos, 2018). He has won the Carlos Palanca Memorial Award for his short fiction. His short fiction has been published in Bisaya, Words Without Borders, New Reader Magazine, and the forthcoming Lamyos New LGBTQ Fiction from the Philippines (University of the Philippines Press). He is the founding editor of Katitikan: Literary Journal of the Philippine South. His second collection of short fiction is forthcoming.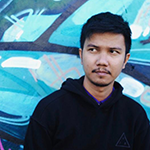 John Bengan teaches writing and literature at the University of the Philippines in Mindanao. His stories have appeared in Likhaan, Kritika Kultura, Asian Cha, and BooksActually's Gold Standard, an anthology of Asian fiction from Math Paper Press. His translations of Elizabeth Joy Serrano-Quijano's fiction have appeared in Words Without Borders, LIT, ANMLY, World Literature Today, and Shenandoah. He co-edited the anthology Ulirát: Best Contemporary Stories in Translation from the Philippines (Gaudy Boy, 2021).
&nbsp