THE FRANCISCAN ODORIC OF PORDENONE ARRIVES IN ZAITON IN 1325 AND EATS PASTA FOR THE FIRST TIME IN THE HOME OF A RICH AND DEVOUT ARMENIAN LADY
Here I am in Formosa, which isn't Formosa yet
because the Portuguese haven't named it.
A month ago I left Canton, skirted the coast,
and my junk anchored at the port of Zaiton,
one of Cathay's most important cities,
at least as big as one (or two) Bolognas.
Here, my superior, John of Montecorvino,
founded two of our order's convents fifteen years ago.
In one of them I found lodging.
With me, the relics of four Franciscans who perished in Tana, near Bombay,
where Christians – I know this from personal experience – are cruelly persecuted.
To arrange for their remains to enjoy eternal rest, I meet with a lady
from Armenia, rich and devout,
who has erected a spacious and beautiful cathedral here.
The lady is older than I am (I won't see sixty again), and very elegant.
She arrived in Zaiton when she was young, having just married a merchant from Erzurum
who's been dead for many years and to whom she gave no children.
The impeccable old lady greets me simply and invites me to dinner.
Her maidservants bring large bowls of rice, and trays with duck meat
carved into nearly transparent slices, and vegetables and fruits of many colors.
I eat with gusto while my hostess speaks to me of China's false gods.
Suddenly, the main dish of our feast is announced,
thin fibers floating in the succulent sea of a dark and steaming broth
that seems to recreate the watery milieu from which life sprang
God-knows how many years ago.
"It's pasta," the widow says, "healthy, nutritious, invigorating food,
and easy to digest. Don't you eat it in Italy?"
"No, my lady, and I will confess, without fear of error,
that it's the most savory delicacy that I have tasted in my life."
We went on to discuss the conditions for the surrender of the relics
and the location of the sacred remains in the temple.
But since those fabulous fibers went from the table to my stomach,
my mind is elsewhere. I've lost my head.
COLERIDGE'S ALBATROSS
Only the sea, and this unquenchable
thirst, and a heap of corpses on board,
and the absence of God.
I don't know why
these things have to happen to me.
It's true, I killed the albatross
that loved me and that I adored,
the snowy-white albatross who fed
from my hand and told me tales of primeval
giants, of goddesses with emerald tresses;
but it's usually the case that one ends up
killing what one loves (Wilde said so).
It's true, I have sinned gravely against
you. Stuffing myself with books, reading
myself blind with the experiences of others
has provided the keys to your hatred of me.
But that's what happens when you mix
oil and water, or put St. George and the dragon
into the same bathroom, or when you try
to stop violent lunatics from hitting each other.
It's true, above all, that I am here, alone,
with this obstinate, mocking sea that laughs
and tosses me about at its pleasure,
as if God had gone and left an intermediary
to punish me for my sins. It's true,
Coleridge's albatross loved me and I killed it.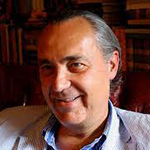 A prolific, multifaceted writer and scholar, Luis Alberto de Cuenca possesses one of Spain's most distinctive poetic voices. His poems, elegant yet devious, explore the expressive resources of the conversational register by making use of a variety of materials: classical antiquity, comic books, Hollywood movies, slang, urban culture. Perhaps more than any of his contemporaries, he has been a major influence on younger Spanish poets. Cuenca received Spain's National Poetry Prize in 2015 for Cuadernos de vacaciones, and in 2021 he won the prestigious Federico García Lorca International Poetry Prize.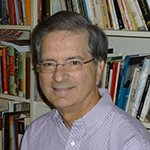 A writer and scholar, Gustavo Pérez Firmat is the David Feinson Professor in the Humanities at Columbia University. He has published several books of poetry in Spanish and English, including Sin lengua, deslenguado, and Bilingual Blues. His books of literary and cultural criticism include Saber de ausencia, Life on the Hyphen, and Tongue Ties.
&nbsp