Coda
From a rocky perch
you scan your eye over the scene
for a moment.
Then you recall
once, a long way back,
you'd set off from this very spot.
—Steinn Steinarr
Welsh-blue canvas facing the southern mountains.
Saturation of colors in which the spectator is aroused by bleating sheep.
Projections reflected off of an exterior wall.
Video shot with a fisheye lens, as if completely underwater.
Teapots, cups, plates, glasses, spoons fall softly.
A woman watches the spectator from the wall.
She makes her way through seaweed and coral reefs.
Objects sink.
She keeps smiling, nothing disturbs the feeling.
She mouths: The world was on fire and no one could save me but you while Chris Isaak plays in the background.
Kaleidoscopic visions.
The spectator becomes an interactive entity.
The garden houses two red armchairs of monumental scale,
a gigantic lamp dimly flickers.
In another corner a medium TV displays
photographs framing parts of a naked body, mountain horizons,
bursts of color and texture, memories of flashes:
rhythmic essences of video clips, paradoxes, detonators for found feelings,
shots of dialogue:
identification and similitudes: visual code:
mass media:
paintings swirling behind the glass.
Multicolored blanket covering a prone body. Frost of sweat and wine. The relic of a saint amid the light footsteps of summer. An aurora borealis under an arm. A desert mirage on snow-covered ground. Familiar territory of childhood.
Eat wild truffles until you pass out.
A celebration of prayer,
a plea for the deer.
Airship trailing a metallic line until it reaches a point of t h a t distance.
While
proceeding
/aimless/
in the sand
/ferocious/
among
fleeting
aerial
serpents
she observes
(captive
eye
before
cosmic
opacity):
b r i e f g l i m p s e s o f b e a u t y.
Those faces.
Sonic sketch. Heart percussions in flight.
State your name: Hydrocodone-acetaminophen at the foot of a snowy peak.
Clouds.
The spectator drinks words by the gallon. History intervening on his eyelids.
Black stains on the wet.
Phrasing. Delimiting word or mother tongue.
Auroras borealis. Spiral galaxies.
Lowered onto tongue, one capsule, every six hours, as needed.
Waving arms. Save me.
Smells and marks out. In the immensity, he tackles. Inside geysers, an
ageless paradise.
One moment identical to the next. and to the next. and to the next.
Clouds.
Clouds. Clouds.
Fingernails skin shoulders left ear. A bomb flies across the sky.
A point of that distance.
That's what we are.
Can you hear the nearby song, each time deeper inside?
Let's burn away. Without a trace.
There.
Coda
Sentado en una piedra
recorres con tu vista el escenario
un instante.
Recuerdas entonces
que una vez, una vez hace ya mucho,
echaste a andar desde este mismo sitio.
Steinn Steinarr
Lienzo de azul galés frente a las montañas del Sur.
Saturación de colores donde el espectador es provocado por balido de ovejas.
Proyecciones reflejadas en muro al aire libre.
Video grabado con lente "ojo de pez", casi de manera total bajo el agua.
Teteras, tazas, platos, vasos, cucharas, caen suavemente.
Una mujer observa al espectador desde el muro.
Se desplaza entre algas y arrecifes de coral.
Objetos se hunden.
Ella mantiene la sonrisa, nada rompe la sensación.
Mueve los labios: The world was on fire and no one could save me but you mientras se escucha de fondo a Chris Isaac.
Visiones caleidoscópicas.
El espectador se vuelve un ente interactivo.
El jardín alberga dos sillones rojos a escala monumental,
una lámpara gigante apenas ilumina.
En otra esquina un televisor de mediano formato presenta
fotografías de partes de un cuerpo desnudo, horizontes de montaña, estallidos de color
y texturas, recuerdos de lo fugaz:
esencias rítmicas de videoclips, paradojas, detonadores
de sensaciones encontradas, imágenes de diálogo:
identificación y similitudes: código visual: medios
masivos:
pinturas que se mueven detrás del cristal.
Manto multicolor sobre cuerpo tendido. Escarcha de sudor y vino. Entre las pisadas ligeras del verano una reliquia de santo. Aurora boreal bajo el brazo. Espejismo del desierto en tierra nevada. Conocido territorio de la infancia.
Come trufas silvestres hasta perder el sentido.
Celebración de plegarias,
rezo para los ciervos.
Aerostático sobre línea metálica hasta alcanzar un punto de e s a distancia.
Mientras
avanza
/al azar/
en la arena
/feroz/
entre
aéreas
serpientes
fugaces
observa
(cautivo
ojo
ante
opacidad
cósmica):
f u g a c e s d e s t e l l o s d e b e l l e z a.
Esos rostros.
Trazo sónico. Vuelo de percusiones en el corazón.
Enunciar su nombre: Hidrocodeína con acetaminofén a pies de nevado.
Nubes.
El espectador bebe galones de palabras. Intervención de la Historia en los párpados.
Manchas negras sobre humedad.
Fraseo. Palabra que delimita o lengua madre.
Auroras boreales. Galaxias de punto radial.
Calado en lengua, una tableta cada seis horas, según el dolor.
Balanceo de brazos. Sálvame.
Huele y demarca. En la inmensidad, ataja. Paraíso de los años en géiseres.
Instante idéntico al siguiente. y al siguiente. y al siguiente.
Nubes.
Nubes. Nubes.
Uñas piel hombros oído izquierdo. Una bomba vuela por los cielos.
Un punto de esa distancia.
Somos.
¿Escuchas el canto cercano, cada vez más dentro?
Ardamos. Hasta desparecer.
Ahí.
Translator's Note
"Coda" is the final poem in Rocío Cerón's poetry collection Borealis. In her book, Rocío explores language's limits as disjointed images pile up into an improbable still life—arctic landscapes, relic-filled cathedrals, clinical operating rooms, the motionless anticipation before a dropped bomb, a catastrophe built without verbs. While these poems stand alone, Cerón's multi-vocal, fragmentary, imagistic approach on the page bears strong traces of her live performances. I encourage any interested reader to visit her site for videos of Rocío performing from Borealis, where her poems are fully realized in the multi-disciplinary practice she calls "expanded poetry." The energy and rhythm of her readings have had just as much influence on my translation as our conversations on individual word choice and meaning. Thanks for reading.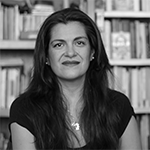 Poet and multimedia artist Rocío Cerón is based in Mexico City. Her work transits between artistic languages creating transmedia pieces. She recently has released the sound poetry album Sonic Bubbles (2020) and the poetry collection Spectio (2019). Follow her creative process on instagram.com/laobservante/ and read/hear/see her work on rocioceron.com.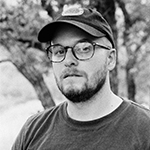 Dallin Law is a translator from the Spanish, focusing on experimental Mexican literature. His translations of Rocío Cerón have also been published in The Canary, Poetry Daily, Denver Quarterly, and Circumference. He is a graduate of the Translator's Workshop at the University of Iowa.
&nbsp