SOCIAL DISTANCING IN OUR PLACE
Translated from Filipino
How do we establish distance
If the houses here cling onto each other
when cable wires are clustered,
corrugated roofs pile onto each other,
and electric posts stand as if in tight queue.

When entering our home,
the dining table quickly meets the eye,
beside the wooden chair,
the corners give way to the sink and the toilet
there is no breathing room
between our belongings.

We are crowded inside
Mom, Dad, my Kuya, my Ate
we have to contort our bodies
in order to fit on the mat and the kulambo.

When going out
what meets the footsteps is the door
of the adjacent house.

They too are crowded inside,
that's why we retreat outside
to do our laundry, to wash dishes,
to play, and to get some fresh air.

How do we establish distance
if we have the face of another?
THE VACANT BEDS
Translated from Filipino
We scoured the entire city
in search for a hospital that would admit us.
There seems to be a procession at the entrance,
queuing with you are children and the elderly who,
like you, are also catching their breaths.
Their kin praying in concert,
their prayers fighting over a piece of space
who no one knows when will be in the offing.
A few already broke off from the line
and chose to head to their respective homes.
Just like you.
And at last, after days of waiting,
a bed is already waiting for you
Waiting for you are the newly changed
pillows and blankets,
your room already spotless.

But how can sound sleep
on a vacant bed
come for a lifeless body?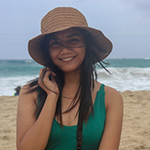 Ansherina May D. Jazul has a BA in Filipinology and a Certificate in Literature and Creative Writing in Filipino from the Polytechnic University of the Philippines. She was a fellow of Linangan sa Imahen, Retorika at Anyo (LIRA) 2014, Cavite Young Writers Association (CYWA) 2018, 2nd Polytechnic University of the Philippines National Multi-Genre Workshop 2019, University of the Philippines Writers Club 2019, Virgin Labfest Writing Program 2020, and University of Santo Tomas National Writers Workshop 2020. Some of her works are published in Liwayway Magazine, a Gantala Press anthology, and Ani 40, Literary Journal of Cultural Center of the Philippines. She is one of the moderators of Lapis ArtCom. A member of the Cavite Young Writers Association, Jazul teaches Filipino and works as a scriptwriter, proofreader, and textbook author.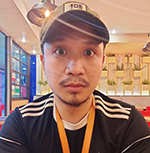 Amado Anthony G. Mendoza III is the author of the novel, Aklat ng mga Naiwan [Book of the Damned] (Balangiga Press, 2018), co-editor and co-translator of Wiji Thukul's Balada ng Bala [The Ballad of a Bullet], and translator of Mga Himutok sa Palikuran (Ateneo de Naga University Press, 2021), the Filipino-language edition of Eka Kurniawan's collection of stories. He teaches courses on Southeast Asian literature and creative writing at the Department of Filipino and Philippine Literature in the University of the Philippines Diliman. Mendoza is also a co-editor of Ulirát: Best Contemporary Stories in Translation from the Philippines (Gaudy Boy, 2021) and several other upcoming anthologies.
&nbsp