Arrival Form
erasure from Government Questionnaire, Ellis Island
Manifest how
you are.
Are you
at last placed?
Name your country
as your destination.
Is your passage
America n?
Are you
a yes or no?
What America
will you form?
All is yours.
Color your eyes.
Do you
Identify ?
Twenty Miles from Mexico
I am a flag
I stand for
water, I wave a faucet
with one drop.

I am blue
where nothing but sky is blue.

I wear the wind. I tell people
come here, survive!
All I have is light,
holes of light,

I am
jumbled, un-symboled.
The desert rips me apart
I am eaten up by the desert.

A young woman drinks drinks drinks.
An American boy
shoots slurred, Stay the fuck out
of my country

Where I fly
doesn't feel like anyone's
country.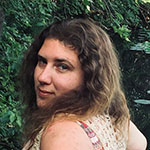 Alexis Ivy is a 2018 recipient of the Massachusetts Cultural Council Fellowship in Poetry and the author of Romance with Small-Time Crooks (BlazeVOX [books], 2013), and Taking the Homeless Census (Saturnalia Books, 2020) which won the 2018 Saturnalia Editors Prize. Her poems have recently appeared in Saranac Review, Poet Lore, and Sugar House Review. She is an advocate for the homeless in her hometown, Boston.
&nbsp