from Los gemidos, "Mar" (The Groans, "Sea")
The Girl
—Like in novels, like in melodies, or like in oleographs, you, imperial woman, you go saddening, you go saddening the marine sunsets…
*
Eternally you're perched on the majestic rocks… a popular feuilleton lost in your skirts and your immense eyes, stunned, dark, in pursuit across the distances, across the most DISTANT, most DISTANT, most DISTANT distances!…
*
Your name is Luisa, Inés, Julia, Maria, your name is Maria,—"like in the novels!"—and you are dressed as a bride, you are dressed as a bride, you are dressed as a bride always, always you are dressed as a bride.
*
Oh! enormous female, little romantic, poetic woman, little enchanting woman, little woman: what does it matter, what does it matter that you DELIGHT IN reading Rovetta when your attitude, your attitude, your attitude alone, alone is just as definitive as the WORLD?.. !..
La niña
—Como en las novelas, como en las tonadas, o como en las oleografías, tú, mujer imperial, vas entristeciendo, vas entristeciendo los atardeceres marinos. . .
*
Eternamente estás sobre las augustas rocas. . . el folletín vulgar caído en las faldas y los ojos inmensos, alucinados, oscuros, persiguiéndose en las distancias, en las distancias más DISTANTES, más DISTANTES, más DISTANTES! . . . .
*
Te llamas Luisa, Inés, Julia, Maria, te llamas Maria,— «como en las novelas! » —, y estás de novia, estás de novia, estás de novia siempre, siempre estás de novia.
*
Oh! hembra enorme, mujercita romántica, poética, mujercita encantadora, mujercita: ¡que importa, que importa que GOCES leyendo à Rovetta cuando tu actitud, tu actitud, tu actitud sola, sola es tan definitiva como el MUNDO?. . !. .
Sunsets
Over the majestic oceanic voice, the sun, the agonizing sun sings, sings, sings the ephemerality of human things and the failing light…
*
Already the last candles are waning, are waning in the DISTANCE… …The philosophical tune of the fisherman and the sirens of the ocean liners, the submarines, the hydroplanes, the hydroplanes migrate with the first wandering swallows towards the old eaves of melancholy… … …
*
The bride and groom play around with burning kisses and the withered leaves with the tombs, and the withered leaves with the tombs.
*
Something distant, very distant, very distant weeps with us…oh! sensation of the old lives of ours, of ours
you emerge from the sea, you emerge from the sea, you emerge from the sea, like a vague and sad memory, MUTE, from the entrails of MAN… children of the sea, children from the sea we carry all the metaphysics of the eternal waters WITH US, WITH US, WITH US!.. !.. … …
*
(…The tremendous cows go on bellowing, go on bellowing, with the waves… …)
Atardeceres
Sobre la augusta voz oceánica, el sol, el sol agonizante canta, canta, canta lo pasajero de las cosas humanas y la luz desteñida. . .
*
Ya las últimas velas se diluyeron, se diluyeron en la DISTANCIA. . . . . . La tonada filosófica del pescador y las sirenas de los transatlánticos, los submarinos, los hidroplanos, los hidroplanos emigra con las primeras golondrinas viajeras hácia los viejos aleros de la melancolía. . . . . . . . .
*
Los novios juegan con besos ardiendo y las hojas marchitas con las tumbas, y las hojas marchitas con las tumbas.
*
Algo distante, muy distante, muy distante llora con nosotros… oh! sensación de las antiguas vidas NUESTRAS, NUESTRAS,
tú vienes saliendo del mar, tú vienes saliendo del mar, tú vienes saliendo del mar, como un
recuerdo triste y vago, MUDO, desde las entrañas del HOMBRE…¡hijos del mar, hijos del mar
llevamos toda la metafísica de las aguas eternas CON NOSOTROS, CON NOSOTROS, CON NOSOTROS!..
!. . . . . . . .
*
(. . . Las vacas tremendas continúan bramando, continúan bramando con las olas. . . . . .)
Invocation
You are like the sound, you are like the sound of all undone lives. . . Your voice is pregnant with possibilities! . . !. .
*
Just like a lugubrious dog you go on barking, barking, barking in my heart. . .
*
Your attitude seems to me, sea, it seems to me and yet it isn't at all; great quantity of waters, of waters, great quantity of waters WITHOUT SENSE, light from obscure forms!. . ? . . . . .
*
You are CREATING YOURSELF, like this, like this, oh! wandering, macabre, macabre cradle of the earth!. . ! ..
*
Your horizontal statues, the waves, fill up the public squares, the public squares with your indefinable ways, and you fit, sea, sea, and you fit in a seashell, good friend!…
Invocación
Eres como el sonido, eres como el sonido de todas las vidas deshechas. . . Tu voz está preñada de posibilidades! . . !. .
*
Lomismo que un perro lúgubre vas ladrando, ladrando, ladrando en mi corazón. . .
*
Tu actitud se me parece, mar, se me parece y NO es ninguna; ¡gran cantidad de aguas, de aguas, gran cantidad de aguas SIN SENTIDO, luz de las formas oscuras!. . ? . . . . .
*
Estás HACIÉNDOTE, así estás, así estás, oh! cuna errante, macabra, macabra de la tierra!. . ! . .
*
Tus estatuas horizontales, las olas, llenan las plazas públicas, las plazas públicas de tus maneras indefinibles y cabes, mar, mar, y cabes en un caracol, buen amigo! . .
Translator's Note:
In "The Ballad of Pablo de Rokha," the opening self-referential poem of Los Gemidos, [The Groans, 1922], Pablo de Rokha's poetic voice emphasizes poetry's magnetic, elemental, organic, fated pull, and describes the creative process as an involuntary, inevitable capture within its folds: "I sing, I sing without meaning to, necessarily, irremediably, fatally, at the randomness of events, like a person who eats, drinks, or walks and because certainly; I would die if I didn't sing, I would die if I didn't sing…." The musicality of these sentences in the original, the destabilizing repetition, and the bright percussive mark of uncertainty—"y porque si; moriría si no cantase" [and because certainly; I would die if I didn't sing]—repeated in the original, are among the qualities that immediately caught my attention the memorable first time I read de Rokha's poetry some years ago. Throughout Los Gemidos, de Rokha describes poetry and the human experiences built around it as integral components of an electrifying world, a soundscape of music and words that wash over the individual as part of a consuming, transfixing, and again, electrifying process where nerves are ablaze, where synapses sing, and where linear thought (should such a thing even exist) cedes before music, bellowing animals, and crashing waves. "Walking musically," and holding "songs that have eyes and feet, eyes and feet" in their mouths, the individuals evoked in de Rokha's poems are portrayed encountering climactic moments in which they are swept up in a maelstrom of cosmic, Dionysian sounds that pulse, shriek, creak, and groan while alternatively animating and conquering the body.
It is this synesthetic saturation and this tension between the body and mind, between the elements and the individual, between the natural world of lowing cows and the frenetic thrum of machines, between a prodigious, universal darkness and intrusive flashes of technology and buzzing lights that I find thrilling to read and translate. Whenever I read and translate de Rokha, I pay special attention to the acoustic atmosphere that he creates, and I strive to "hear" the resonances located in and hovering through and around each poem. Most recently, I keep returning to the juxtaposition and sonoric clash between the "groans" prioritized in the collection's title, and the ostensibly melodious ballad evoked in the collection's first poem, in part because it is a clash that reverberates in numerous other poems, including the "song," "hymn," "elegy," "harangue," psalm," "ode," and "canticle" that help constitute Los Gemidos's sonoric landscape and its various dissonant manifestations.
Yet it should be said that de Rokha's poetry offers far more than anything I could succinctly express here: his rich imagery, evocative symbolism, seething conclusions, and the acuteness of his voice make every experience of reading even just one of his poems vital and constantly new. The selections from Los Gemidos's section on the "Sea" that are included here ("La niña," "Atardeceres," and "Invocación"), speak to de Rokha's expansive eye and his capacious embrace. Yet, as I have suggested above, this capaciousness is paired with an exacting temporal dimension, an awareness that the things that we love, or that we use to find our bearings will eventually fail us, or fail with us… "Atardeceres," for example, evokes the opening "I sing, I sing" of the first poem of Los Gemidos, but this time it is the "agonizing sun," miraculously heard over the ocean's expansive voice that "sings, sings, sings" its melancholic awareness of the passage of time and the fugacity of human experience.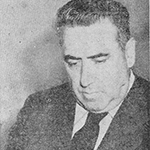 Born in Licantén in 1894, Pablo de Rokha (pseudonym, Carlos Díaz Loyola; d.1968, Santiago) is known as a towering Chilean literary figure. Although he explored various genres, de Rokha was especially prolific in poetry and essays, publishing numerous volumes of both. He published a collection of avant-garde poems, Los gemidos (The Groans) in 1922, and received numerous awards for his work, including Chile's prestigious Premio Nacional de Literatura, which he was awarded in 1965. De Rokha was married to the poet Luisa Anabalón Sanderson (pseudonyms, Winétt de Rokha and Juana Inés de la Cruz) from 1916 until her death in 1951.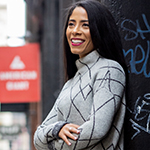 Alani Rosa Hicks-Bartlett is a writer and translator who loves the invective genre, most of all, followed by lyric and epic poetry. Especially drawn to the premodern period, she is passionate about languages and enjoys translating from Catalan, French, Italian, Latin, Spanish, Portuguese, and Yiddish. She has won awards for her creative writing, including the University of California, Berkeley's Dorothy Sargent Rosenberg Lyric Poetry Prize, Dorothy Rosenberg Memorial Prize in Lyric Poetry, and the Emily Chamberlain Cook Prize. Her recent creative work has appeared in The Stillwater Review, IthacaLit, Gathering Storm, Broad River Review, The Fourth River, and Mantis: A Journal of Poetry, Criticism, and Translation, among others.
&nbsp