Mlabalaba¹
after Nkosi Nkululeko's poem "The Chessmen"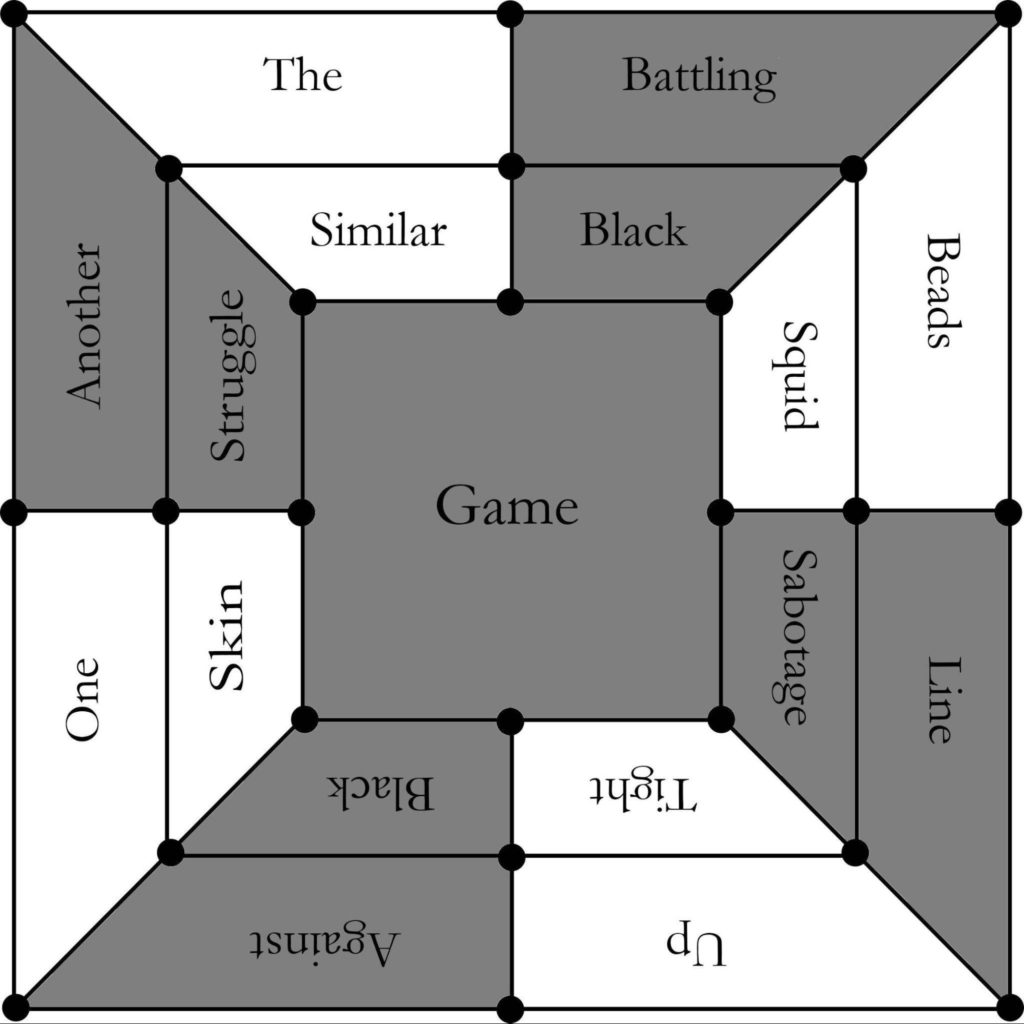 * Note: The poem should be read horizontally starting at the word 'The' going clockwise into the inner square & ending at the word 'Game'.
The poem can also be read vertically [downwards] as an octuple poem consisting of eight three-word micro poems all ending on the word 'Game.'
---
¹ African boardgame also playable on sand with beads, coins, or pebbles
Zabalaza Republic
1.
the coup d'etat would not have been possible
without Azania's heartbeat black pain & black voices of all the struggle
songs turned against us of revolutions archived, of our volume lowered
by black hands that look just like ours, the country fell silent
as a nation patiently waits for the president to begin to speak
2.
the people shall govern

a line borrowed from the since withered & sealed long forgotten Freedom charter,
of small-a-nyana2 skeletons hidden under clapping of hands under stomping of feet,
& all the cadres left behind after the black consciousness of Biko have chosen
to not let imbokodo3 lead unless flung towards a window moments before the catalyst
for an impending war the shattering sound of glass a lesson on breaking
3.
the children of the soil need new songs
to touch beneath the surface, the movement is only one by name when we are at a stand-still,
& it appears we have a problem of a rainbow with only two colours songs of Zabalaza
as our inheritance from the generation that struggled before us
of restless troubled spirits there is something among us that is simply refusing to die,
we say we are tired of these same songs we are not yet tired of these same songs
we cannot seem to agree on anything,
soldiering on with old songs still relevant
the pain is becoming much too heavy it is almost time to unburden
in language of screams universal

---
2An infamous quote by South African politician Bathabile Dlamini
3isiZulu for 'a large rock' also used to refer to strong women as taken from the isiZulu saying 'wathint' umfazi wathint' imbokodo' meaning 'you strike a woman you strike a rock'.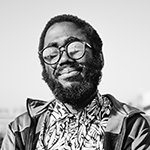 Sihle Ntuli is a poet and classicist from Durban, South Africa, he has had work appear in notable publications including The Rumpus, SAND Journal & Transition Magazine amongst others. He is the author of Rumblin (uHlanga, 2020) and poetry co-editor of instagram based zine Wild Pine Poetry. Author photo by Niamh Walsh-Vorster.
&nbsp